Tweets of the Week: Content Committee bloopers, Keith Mitchell's message box, and McIlroy's classy gesture
Keith Mitchell held off charges from Brooks Koepka and Rickie Fowler to win his first event on the PGA Tour at the Honda Classic,  Kurt Kitayama took down the Oman Open, while Park Sung-Hyun triumphed at the HSBC Women's Championship. After a week which didn't fail in delivering both drama and controversy, here are some things you may have missed and some of the quirkier moments from the world of golf dished out in the Twittersphere over the past seven days.
Rory's Classy Move
He may have been disappointed not to have won the WGC-Mexico last week, but this gesture from McIlroy after the final round was all class.
I was thrilled to receive all the support from Eduardo and his brother, Hector this week @WGCMexico! Thank you very much, it was an honor to meet you!

Me emocionó recibir todo el apoyo incondicional de Eduardo y su hermano, Hector.
¡Muchas gracias, fue un honor conocerlos! pic.twitter.com/SbNrDYe342

— Rory McIlroy (@McIlroyRory) February 25, 2019
Rahm Goes Deep
Jon Rahm and his fiancee showing off their skills for the NFL Combine.
NFL combine….sign us up!! @NFL #NFLCombine #NFLCombine2019 pic.twitter.com/dMjUlhHlBE

— Jon Rahm Rodriguez (@JonRahmpga) February 28, 2019
Content Committee Bloopers
The European Tour finally released the bloopers from the new Content Committee team. Now we just need the uncencored version…
You asked for it. So here it is.

Bloopers from #TheContentCommittee ???? pic.twitter.com/i9fJNEpiUA

— The European Tour (@EuropeanTour) March 1, 2019
JT vs a Tree
There was no holding back from Thomas on this shot from the opening round at the Honda Classic!
FEARLESS … @JustinThomas34 managed to get this shot . into the green-side bunker.#LiveUnderPar pic.twitter.com/2B5JlHMWvs

— PGA TOUR (@PGATOUR) February 28, 2019
Kid Rock Hole In One
Imagine making your first ever hole in one alongside Jack Nicklaus…
First hole-in-one for Bob Ritchie (a.k.a. @KidRock) Aced No. 2 at The Bear's Club, 175 yards. Glad I slipped in some golf before settling in for some @TheHondaClassic action. Bob, the locker room thanks you for the free beverages! ???? pic.twitter.com/VSwTpFYFuX

— Jack Nicklaus (@jacknicklaus) March 3, 2019
Phil's Short Game Tips
Or another excuse to get those calves out…
Hello #Twitterverse! This is my first Off-Week Tip Wednesday! Although it's obvious which shot I choose, when you are faced with the choice between the high percentage play and the sexy play, which do YOU choose????? #Lefty pic.twitter.com/vZvWOvgWB0

— Phil Mickelson (@PhilMickelson) February 27, 2019
McGirt's Busy Rehabilitation
I sure picked a good year to have surgery and not play golf. With all these rules incidents I need to spend the next few months figuring out what I can and can't do anymore. Haven't watched any golf. Just see it all on social media. Makes my head spin.

— William McGirt (@WilliamMcGirt) March 3, 2019
Keith Mitchell's Phone
Speaking of head spinning…
An hour after @TheHondaClassic win, @K_m_Mitchell had:

???? 704 texts
???? 92 Snaps
???? 2 apps that need to be updated pic.twitter.com/WVgjCkJ963

— PGA TOUR (@PGATOUR) March 4, 2019
Your Reaction?
LIKE

22

LEGIT

0

WOW

0

LOL

1

IDHT

0

FLOP

0

OB

0

SHANK

2
Tiger at the Masters: The 3 that got away
This time last year, Tiger Woods earned his fifth green jacket at the 2019 Masters, breaking a 14-year drought at Augusta National and completing a storybook career comeback (see Tiger Woods' 2019 Masters WITB here).
Between his 2005 and 2019 victories, Woods gave himself several chances to reclaim the green jacket, but for one reason or another, the championship continuously eluded the 15-time major winner.
Looking back on that drought, three years in particular stick out in my mind where Woods (being the ruthless closer that he is) could, and maybe should, have capitalized on massive opportunities.
2007 Masters
A unique tournament broke out at the 2007 Masters with chilly and windy conditions meaning we would see an over-par score winning the event for the first time in a generation.
Unusually however was the fact that Tiger Woods had got himself into a fantastic position heading into the final day's play—one stroke back of the lead and in the final group.
By the first hole on Sunday, Woods had a share of the lead. A couple of holes later, and he was the sole leader. But instead of the game's greatest ever closer doing what he does best, we saw the first small chink in Tiger's major armor.
Unable to keep up with the improved scoring on Sunday, Woods finished the championship two strokes behind Zach Johnson. It was the first time Woods lost a major in which he held the lead at some point in the final round.
Summing up after the round why things hadn't turned out the way the entire golf world expected, Woods said
"Looking back over the week I basically blew this tournament with two rounds where I had bogey, bogey finishes. That's 4-over in two holes. The last two holes, you just can't afford to do that and win major championships."
2011 Masters
In one of the most exciting final rounds in Masters history, an electric front-nine charge from Woods coupled with a Rory McIlroy collapse saw the then 35-year-old tied for the lead heading into the back nine.
After back-to-back pars on the challenging 10th and 11th holes, Woods found the green on the 12th before it all slipped away. A disastrous three-putt was followed by a deflating five on the par-5 13th and an agonizing near-miss for birdie on 14.
In typical defiant fashion, Woods then flushed a long iron on the par-5 15th to give him five feet for eagle and what would have been the outright lead. But he couldn't find the cup.
Directly following his round, a visibly miffed Woods said
"I should have shot an easy 3- or 4-under on the back nine and I only posted even. But I'm right there in the thick of it and a bunch of guys have a chance. We'll see what happens."
What happened was eventual champion Charl Schwartzel did what Woods said he should have done—shooting 4 under on the back to win his first major.
2013 Masters
Luck, or lack of, is a contentious topic when it comes to sports fans, but at the 2013 Masters, Woods' shocking fate played out as if those on Mount Olympus were orchestrating the tournament.
Woods entered the 2013 Masters as the World Number One, brimming with confidence having won three out of his first five tournaments to start the year.
By Friday afternoon, Woods had cruised into a share of the lead, before crisply striking a wedge on the par-5 15th as he hunted for another birdie.
In a cruel twist of fate, Woods' ball struck the pin and ricocheted back into the water. "Royally cheated!" shouted on-course announcer David Feherty. Nobody could argue otherwise.
A subsequent "bad drop" turned a probable birdie into a triple-bogey placing Woods behind the proverbial 8-ball for the rest of the tournament. The game's ultimate closer should have been in the lead with two rounds to play on a front-runner's paradise of a course; instead, he was in chase-mode. (From 1991-2012, 19 of the 22 winners came from the final group).
Woods tried to rally over the weekend, but if he didn't think the 2013 Masters was ill-fated for himself by Friday evening, then he would have been excused to do so on the eighth hole on Saturday.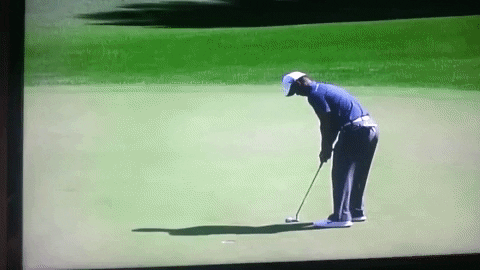 Had Woods' golf ball missed the pin at 15 on that hot and humid Spring afternoon in 2013, then he not only wins, but he likely wins going away.
Your Reaction?
LIKE

14

LEGIT

1

WOW

1

LOL

0

IDHT

0

FLOP

1

OB

0

SHANK

1
The 6 best #GolfWRX photos on Instagram today (4.7.20)
In this segment, we'll be taking a look at some of the best #GolfWRX tagged photos on Instagram. In case you aren't already, there's a whole load of action going on at our page, so follow us: @golfwrx
Let's get to it then, here are six of the best #GolfWRX photos from the past 24 hours.
"Flow inspired" from Goodwood.
Awesome Tiger King giveaway from Rawhide Golf.
Beautiful looking work on this flat-stick from The Golf Garage.
Pre-orders now available on Bettinardi's Queen B 6 SBS.
Frank mallet covers from MSquare Design.
Masters themed copper plated Studio Design 2 from Embrace Putters.
Get hashtagging your golf posts #GolfWRX for your chance to feature in our best of Instagram posts in the future!
Your Reaction?
LIKE

3

LEGIT

0

WOW

0

LOL

0

IDHT

0

FLOP

0

OB

0

SHANK

4
All the details of the Masters coverage being broadcast this week
The 2020 Masters may be postponed until November, but during what was initially scheduled to be 'Masters week' there's still plenty of ways for you to get your fix from the iconic championship.
Full final-round coverage of both Tiger Woods' 2019 victory and Phil Mickelson's 2004 triumph are just two of the highlights you can look forward to this weekend, with a bundle of action being showcased across different networks.
Here's a full rundown of the coverage various networks are putting on this week.
*All times ET*
Golf Channel
Monday:
2:30PM: 1960 Masters highlights, Arnold Palmer

4:30PM: 1962 Masters highlights, Arnold Palmer

6:30PM: 1964 Masters highlights, Arnold Palmer

8PM: Celebrating the Masters
Tuesday:
2:30PM: 1974 Masters highlights, Gary Player

6:30PM: 1978 Masters highlights, Gary Player

8PM: Celebrating the Masters
Wednesday:
10AM: 1968 Masters highlights, Bob Goalby

12:15PM: 1970 Masters highlights, Billy Casper

6:15PM: 1986 winner's news conference, Jack Nicklaus
Thursday:
10:30AM: 1987 Masters highlights, Larry Mize

12PM: 1977 Masters highlights, Tom Watson

1.30PM: 1981 Masters highlights, Tom Watson

4.30PM: 1962 Masters highlights, Arnold Palmer

6.30PM: 1964 Masters highlights, Arnold Palmer

7:30PM: 2012 winner's news conference, Bubba Watson 

11PM: 1997 winner's news conference, Tiger Woods
Friday: 
10AM: 1980 Masters highlights, Seve Ballesteros

11:30AM: 1983 Masters highlights, Seve Ballesteros

6PM: 2013 winner's news conference, Adam Scott

11PM: 2005 winner's news conference, Tiger Woods
Saturday: 
9:30AM: 1989 Masters highlights, Nick Faldo 

1:30PM: 1986 Masters highlights, Jack Nicklaus

6pm: 2004 winner's news conference, Phil Mickelson
Sunday:
6PM: 2019 Live From the Masters
CBS
Saturday:
1:30PM: 1975 final-round highlights, Jack Nicklaus 

2004 final round, Phil Mickelson 
Sunday:
12:30PM: 2019 final round, Tiger Woods 
ESPN
Thursday:
3PM: 2012 final round, Bubba Watson

7:30PM: 1997 final round, Tiger Woods 
Friday: 
12PM: 2013 final round, Adam Scott

6PM: 2005 final round, Tiger Woods
All final round broadcasts from 1968 through 2019 are also available to watch now in their entirety on The Masters YouTube channel.
Your Reaction?
LIKE

2

LEGIT

0

WOW

0

LOL

0

IDHT

0

FLOP

0

OB

0

SHANK

0