How power helps your golf game (and it's not how you think)
Editor's Note: This is an excerpt from Rich Hunt's 2018 Pro Golf Synopsis, which can be purchased here for $10.99. Stylistic changes were made to the story for online publication.
As a statistical analyst and researcher for Tour pros, caddies and instructors, the most common question I receive is with regards to the importance of power in the game. There is still a strong contingent of golfers that believe that driving distance is the least important metric in the game of golf. I am emphatic when I say that is incorrect.
Research conducted by myself and others has shown that driving distance is one of the more important metrics in the game. Not only have I found this to be the case when studying Tour players, but it applies to the average amateur as well.
In 2013, some friends of mine and I did a study using Trackman and the USGA GHIN to see if there was a correlation between a golfer's club head speed and their handicap index. There were 137 subjects, ages 15-57 years old that had to have a USGA handicap and have recorded at least 20 scores in the GHIN within the last 12 months. The subjects ranged from PGA Tour players to 25 handicaps.
The findings were than the correlation very strong at +0.91 with a standard deviation of 4.5 mph. Correlation is the a mathematical methodology to determine the strength of a relationship between two variables. The closer the correlation is to 1.0, the stronger the relationship. Therefore, a correlation of +0.91 shows a very strong correlation and it is strong enough to project club head speed based on the golfer's handicap.
Here is the regression formula that projects the club head speed based on the golfer's USGA handicap
(Handicap *-1.38899923605806) + 106.486783804431 = Projected Club Head Speed
Here is a table showing the projected club speed based on USGA handicap (note that + handicaps are better-than-scratch golfers)
There has been some confusion from readers in interpreting the data. Understand that this is projecting the club speed and it is not definitive. The projected club speed numbers do not represent the entire population.
The data projects that 68 percent of the population will fall within 1-standard deviation from the projected values. That means that the data projects that 68 percent of the population will fall within +/- 4.5 mph from the projected numbers listed above. 95 percent of the population will fall within 2-standard deviations (+/- 9 mph) of the projected numbers listed above. And 99.7 percent of the population will fall within 3 standard deviations (+/- 13.5 mph) of the projected numbers listed above.
When I posted this table on Twitter, many readers would proclaim that they 'underachieved' because their club speed was much higher than the projected numbers based on their handicap. For example, a player that is a -3 handicap is projected to generate 102.3 mph club speed, but generates (or at least claims to) generate 113 mph club speed.
That player has not 'underachieved' nor does it mean that the regression analysis is invalid based on their anecdotal evidence. It just means that that they fall outside 95 percent of the projected population of -3 handicaps.
The key to understanding the table and regression analysis is that the study shows that there is a relationship between the two variables, not a perfect 1:1 relationship. And thus, we can use that relationship not only for more accurate projections, but to examine why that relationship exists and what can be done for golfers to use that to their advantage to improve their scores.
For example, a friend of mine is roughly a 20 handicap, but I have clocked him at 124 mph club speed. He never had much in the way of formal instruction and plays about once a month. But he is a 6'6" former college basketball player and competitive softball player. He knows how to do one thing incredibly well in golf; generate speed. It does not mean that speed (power) is any less important. It just means that he is outside 99.7% percent of the population and is an extreme anomaly.
***
One issue with the regression analysis that I posted is that it does not determine why the relationship exists. Do lower handicaps tend to have higher club head speeds because they are utilizing better technique that allows them to generate more speed or does the distance gained actually help the golfer shoot a lower score?
A few years ago, my friend Mark Sweeney from AimPoint Golf found another strong correlation involving distance. This time the correlation was with the length of the average birdie putt for Tour players. The chart looks something like this:
Essentially, the further the player hits the ball off the tee, the more likely their average birdie putt will be shorter in length. Thus, a player that is a lesser skilled putter can sink more putts than superior skilled putters if they are longer off the tee because they are having easier putts to make. I call this The Power to Putting Principle.
For example, Rory McIlroy is one of the longest hitters on Tour and has struggled with the putter in recent years. Brian Gay is one of the shortest hitters on Tour and one of the better putters. Rory may sink more putts in a round because he may have an average birdie putt length of 15-feet while Gay's average birdie putt length may be at 25-feet. On birdie putts, McIlroy is giving himself putts that have a 22 percent make probability on average compared to Gay having putts with a 10 percent make probability on average. Thus, while Gay is a far superior putter he will not likely make as many putts as McIlroy because Gay's putts are much more difficult to make.
This is where power provides the greatest advantage to golfers; on the putting greens.
Is there any advantage to being short, but accurate off the tee?
Well, note that the Sweeney study is about the length of the average birdie putt. When a long ball hitter misses the green in regulation, they are more likely to have a longer and more difficult scrambling opportunity. This is because of the times that the bomber misses the fairway by a wide margin and ends up in the trees and has to punch out or they end up in a penalty area.
This is why I advise Tour players that analytics if golf is not a rigid 'one size fits all' system. Not only should a golfer accurately determine their strengths and weaknesses and figure out how to utilize them to play the best golf possible, but distance plays a major role in what areas of the game a player needs to focus on. Brian Gay should not try to play Bubba Watson's game and Bubba Watson should not try to play Jordan Spieth's game all because their differing lengths off the tee creates different advantages they must exploit and different weaknesses that they must account for.
Applying this to your game
As I mentioned earlier, the Power to Putting Principle states that longer hitters have an advantage on the greens because they are more likely to have short length birdie putts on average than shorter hitters. But shorter hitters have an advantage when the green in regulation is missed.
Thus, shorter hitters need to be more skilled putters to compete with the longer hitters. And longer hitters need to be more skilled with their abilities around the greens in order to convert those up-and-downs like the shorter, but more accurate golfer.
Therefore the best short hitting golfers in the world over the years (Zach Johnson, Brian Gay, Jim Furyk, etc.) have been very good putters. They must be great putters to make up for them having more difficult putts on average than the longer hitters. That is how some of the best long hitters in the world tend to still play great golf despite putting poorly (i.e. Dustin Johnson, Rory McIlroy, Bubba Watson).
But we do see that the long hitters tend to play their best golf when their short game around the green and/or their putting improves.
The misconception from the press and fans becomes that because a bomber improved so much in their putting and/or short game around the green that is what really matters most in golf. The reality is completely different from perception though. They are great players and better than the rest of the world because of their ballstriking and their power. It's just that when they improve their putting and short game around the green, now they become the very best of the best.
Bubba Watson isn't ranked #17 in the world due to his short game around the green (ranked 174th last season) and putting (ranked 108th last season). However, if he starts to dominate the Tour and get into the top-10 it is very likely that he will have improved upon those areas and essentially have little in the way of flaws in his game.
How does this apply to the 10-handicap golfer?
The projected club speed of a 10-handicap golfer using my regression analysis is 92.6 mph. If a golfer is a legitimate 10-handicap golfer and generates 85 mph they are likely more accurate off the tee and a better putter than the other 10-handicap golfer that generates 93 mph of speed.
With any golfer, an increase in club speed is likely to improve their handicap. However, if the golfer just wants to compete with other 10-handicaps without working on their golf swing, it is very important that he hit the ball more accurately than his competitors and that he will need to be more skilled with the putter.
If the golfer is a 10-handicap and generates 100 mph of club speed with the driver, they most likely are less accurate off the tee and worse putters than their fellow 10-handicap golfers. However, the key here is that the 100-mph golfer has more options than the 85-mph golfer. The 100-mph golfer can beat out his fellow 10-handicappers by hitting the ball more accurately or by improving their short game around the green to make up for having more difficult scramble opportunities or they can improve their putting.
In a previous example, I showed why Brian Gay has to be more skilled of a putter to sink more putts than Bubba Watson. Gay hits it shorter and has longer (and thus more difficult) putts to make than Watson. But, what if Bubba was equally as skilled or more skilled than Gay with the putter?
You would have an equally skilled or more skilled putter that is putting from more makeable distances. This is why long hitters are so dangerous. If they can keep the ball out of trouble and get four good days with the putter, they are going to contend. And the same applies with amateurs.
Developing young golfers
I am frequently asked by coaches of junior golfers and colleges that have Professional Golf Management programs about what their golfers should focus on developing in their golf game.
My answer is 'Power and Putting.'
It may sound like a cliché with all the discussion with regards to how the Tour is becoming about who can hit it the longest, but my opinion is based on the math and the historical data with regards to the subject.
If hitting it further is likely to leave you with more makeable birdie putts and the golfer is a great putter, then it is a scenario where a great putter has easier putts to make and that equates to the lowest scores.
Yes, every shot does count. Long approach shots are certainly important and the same with mid-length approach shots. The same goes for having a respectable amount of accuracy and precision. And you do lose strokes if your short game around the green stinks to high heaven. But most players that hit it long have a high level of competence as a golfer. And those that can putt well along with it are at an enormous advantage.
And if I were to just name players that hit the ball long (175+ mph ball speed) and putted great for a significant length of time with no regards to the rest of the game, the players I come up with are:
Tiger Woods
Phil Mickelson
Brooks Koepka
Jason Day
Rickie Fowler
Paul Casey
Jimmy Walker
And those are the players that I could measure with ShotLink. While it is speculation, players off the top of my head that were both very long and great putters pre-ShotLink were:
Bobby Jones
Arnold Palmer
Jack Nicklaus
Tom Watson
Seve Ballesteros
There was more to their games than hitting it long and putting well. But, the math behind hitting it long and putting well is why it was not a coincidence that they were also some of the greatest players to have ever played the game.
Your Reaction?
LIKE

137

LEGIT

23

WOW

15

LOL

1

IDHT

2

FLOP

2

OB

0

SHANK

22
The Gear Dive: TrackMan's Lance Vinson Part 2
In this episode of the Gear Dive, Johnny goes even deeper into the TrackMan data with Tour Rep Lance Vinson. It's a ridiculous nerd out covering what the future holds, who is the most efficient player on tour, who hits it the best and a million other things.
Check out the full podcast on SoundCloud below, or click here to listen on iTunes or here to listen on Spotify.
Want more GolfWRX Radio? Check out our other shows (and the full archives for this show) below. 
Your Reaction?
LIKE

0

LEGIT

0

WOW

0

LOL

0

IDHT

2

FLOP

0

OB

0

SHANK

0
Mondays Off: How is the new PGA schedule looking? Gross golf bag cleaning story!
The new PGA schedule is out and how will so much major golf look in the fall. What golf gear would you buy with your stimulus check if you could blow it all on golf? Knudson has a gross story about cleaning out a golf bag.
Check out the full podcast on SoundCloud below, or click here to listen on iTunes or here to listen on Spotify.
Want more GolfWRX Radio? Check out our other shows (and the full archives for this show) below. 
Your Reaction?
LIKE

1

LEGIT

0

WOW

0

LOL

0

IDHT

0

FLOP

0

OB

0

SHANK

1
Tiger at the Masters: The 3 that got away
This time last year, Tiger Woods earned his fifth green jacket at the 2019 Masters, breaking a 14-year drought at Augusta National and completing a storybook career comeback (see Tiger Woods' 2019 Masters WITB here).
Between his 2005 and 2019 victories, Woods gave himself several chances to reclaim the green jacket, but for one reason or another, the championship continuously eluded the 15-time major winner.
Looking back on that drought, three years in particular stick out in my mind where Woods (being the ruthless closer that he is) could, and maybe should, have capitalized on massive opportunities.
2007 Masters
A unique tournament broke out at the 2007 Masters with chilly and windy conditions meaning we would see an over-par score winning the event for the first time in a generation.
Unusually however was the fact that Tiger Woods had got himself into a fantastic position heading into the final day's play—one stroke back of the lead and in the final group.
By the first hole on Sunday, Woods had a share of the lead. A couple of holes later, and he was the sole leader. But instead of the game's greatest ever closer doing what he does best, we saw the first small chink in Tiger's major armor.
Unable to keep up with the improved scoring on Sunday, Woods finished the championship two strokes behind Zach Johnson. It was the first time Woods lost a major in which he held the lead at some point in the final round.
Summing up after the round why things hadn't turned out the way the entire golf world expected, Woods said
"Looking back over the week I basically blew this tournament with two rounds where I had bogey, bogey finishes. That's 4-over in two holes. The last two holes, you just can't afford to do that and win major championships."
2011 Masters
In one of the most exciting final rounds in Masters history, an electric front-nine charge from Woods coupled with a Rory McIlroy collapse saw the then 35-year-old tied for the lead heading into the back nine.
After back-to-back pars on the challenging 10th and 11th holes, Woods found the green on the 12th before it all slipped away. A disastrous three-putt was followed by a deflating five on the par-5 13th and an agonizing near-miss for birdie on 14.
In typical defiant fashion, Woods then flushed a long iron on the par-5 15th to give him five feet for eagle and what would have been the outright lead. But he couldn't find the cup.
Directly following his round, a visibly miffed Woods said
"I should have shot an easy 3- or 4-under on the back nine and I only posted even. But I'm right there in the thick of it and a bunch of guys have a chance. We'll see what happens."
What happened was eventual champion Charl Schwartzel did what Woods said he should have done—shooting 4 under on the back to win his first major.
2013 Masters
Luck, or lack of, is a contentious topic when it comes to sports fans, but at the 2013 Masters, Woods' shocking fate played out as if those on Mount Olympus were orchestrating the tournament.
Woods entered the 2013 Masters as the World Number One, brimming with confidence having won three out of his first five tournaments to start the year.
By Friday afternoon, Woods had cruised into a share of the lead, before crisply striking a wedge on the par-5 15th as he hunted for another birdie.
In a cruel twist of fate, Woods' ball struck the pin and ricocheted back into the water. "Royally cheated!" shouted on-course announcer David Feherty. Nobody could argue otherwise.
A subsequent "bad drop" turned a probable birdie into a triple-bogey placing Woods behind the proverbial 8-ball for the rest of the tournament. The game's ultimate closer should have been in the lead with two rounds to play on a front-runner's paradise of a course; instead, he was in chase-mode. (From 1991-2012, 19 of the 22 winners came from the final group).
Woods tried to rally over the weekend, but if he didn't think the 2013 Masters was ill-fated for himself by Friday evening, then he would have been excused to do so on the eighth hole on Saturday.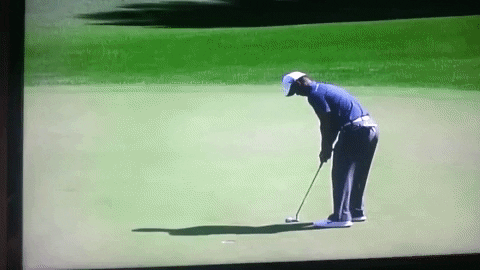 Had Woods' golf ball missed the pin at 15 on that hot and humid Spring afternoon in 2013, then he not only wins, but he likely wins going away.
Your Reaction?
LIKE

34

LEGIT

1

WOW

2

LOL

0

IDHT

0

FLOP

1

OB

0

SHANK

1