How good do you REALLY have to be to compete at a high-level in college golf?
One of the major complaints I hear from parents is, "schools don't email my son back."
In October of last year, I published a story with data from college coaches called "Stop Bothering Me! Why NCAA coaches already get too many emails." The story demonstrated the overwhelming demand of time coaches need to respond to emails from a melee of people from junior golfers to donors to members of their own administration. That article, however, tells only half the story; the other half is for junior players, their parents and coaches to understand the level it takes to contribute to a NCAA Division I team, which has the potential to make the post season (regional championship). For this story, we examine the college rankings of Oklahoma State and Alabama, who just met in the NCAA match play final, as well as Michigan State. Michigan State, ranked No. 54 in the final GolfStat rankings, was the highest and last team to make the post season after automatic bids.
When reviewing the data, keep in mind that currently 62 Power-5 schools have golf teams. If only the top-54 schools make regionals, after automatic qualifiers, it means that 8 Power-5 conference schools are not going to make regionals. Considering the strength of mid-major schools overall, that makes regionals a tough order.
So, what does it take to play at this level? Let me present some data; the teams, their scoring average per player, their averaged dropped score, the Golfweek rankings of the players when they signed to attend the schools and the average Golfweek rankings of the traveling team. Please note that no international players where included because none where ranked by Golfweek, and I did not want to include the World Amateur Golf Rankings.
Oklahoma State (Ranking: No. 1)
Scoring Average: 69.85
Average Dropped Score: 74.13
Players (Golfweek Rank)
Zach Bauchou (8)
Austin Eckroat (18)
Mathew Wolff (36)
Nick Heinin (31)
Hayden Wood (55)
Sam Stevens (26)
Stratton Nolen (40)
Brandon Jelley (24)
Overall Average Ranking: 29.75
Alabama (Ranking: No. 6)
Scoring Average: 71.04
Average Dropped Score: 75.92
Players
Alex Green (70)
Davis Riley (6)
Johnathan Hardee (21)
Ben Fuller (407)
Wilson Furr (6)
Davis Shore (3)
Lee Hodges (Transfer)
Overall Average ranking: 85.5
Average ranking of starters: 9
Michigan State (Ranking: No. 54)
Scoring Average: 72.86
Average dropped score: 76.6
Players
Devin Deogun (96)
Dylan Deogun (Transfer)
James Poit (81)
Zach Rosendale (436)
Andrew Walker (44)
Austin Jenner (93)
Kaleb Johnson (565)
Michael Sharpe (170)
Charlie Green (204)
Overall Average ranking: 219
Average ranking of starters: 212.8
Do you see a pattern? Although the sample size is small, teams who compete at the national level (including playing regionals) need difference makers who in college can average 73 or better. Historically, the data suggests that difference makers usually have scoring differential that is negative, and they are ranked in the top 100-150 in their class. How good is the 20th ranked player in the class? According to Junior Golf Scoreboard, the 20th player in the 2018 class has a scoring differential of -3.92, and the 20th player for the 2019 has a scoring differential of -2.51. Likewise, the scoring differential for the 220-ranked player in the 2018 class is -.14, and the 220th player for the 2019 class is +.18. This means that a player recruited at 20 in the country, who typically ends up at Alabama or Oklahoma State, is about 3.5 shots per round better than a recruit at 220 (which make sense since the data above suggests that Oklahoma State's average counting score is about 3 shots better than Michigan State).
The simply fact is that coaches need difference makers and it is not getting any easier. Under title IX, most teams are only allowed 8-10 players. In a 4-year recruiting cycle, this means 2 players per year. Being wrong is quite literally a matter of being fired. As a result, you better believe that coaches take recruiting seriously and are carefully weighing all options. For the most part, coaches are likely to prefer not only a negative scoring differential but strong physical ability, sound technique and a love of competition. Occasionally, a coach will take a risk. The data suggests this happens about 1/10 times for a team ranked in the top 100. For example, Casey Lubhan at Michigan State, decided to give Kaleb Johnson a chance because of his power and work ethic. The result? Kaleb is now a as a sophomore is a Big Ten All Conference player. Nice call, Casey! Over time, coaches like Casey who make the right calls are rewarded by making regionals, getting incentives and keep their jobs. However, some many make similar investments and get stuck with a player who does not develop; taking up a valuable roster spot.
For coaches who are in programs where they are held accountable and funded fully, the clear majority are expected to make the regional tournament. The data collected demonstrated to have a chance at regionals, a team must average about 292 or better, or 73 shots per player. Most of the players capable of doing this consistently are going to have junior rankings in the top 100 in their class, with scoring differentials at or near 0. It is important to remember many athletic administrators expect coaches to make at least the regional tournament. Since the best way to do this is recruit talent, data suggests that administrators from nearly all institutions carefully monitor the rankings of signees, expecting coaches to get top talent ranked within the top 100 players in the class (at least).
Beyond the pressure to recruit, it is likely coaches will need to have a strong background in player development. Why? My data suggests that the average AJGA Open boy's tournament is played from a distance 6849 on a course rating of 71.9. This year's national championship at Karsten Creek was played at 7460 with a course rating of 77.2. To keep scores the same from junior golf to college, coaches need to make players approximately 5 shots better. Five shots, that's a lot!
Karsten Creek is not the only hard golf course; for Michigan State to even have a chance to make regionals, they needed to have 4 players per round average about 72 in a tournament schedule which featured places like Inverness, Crooked Stick, Collection River and Ohio State. This means at a course like Ohio State with a course rating of 76.2 and yardage of 7455, you would need to be approximately a +3 handicap to help Michigan State. That's ridiculous at the best of times; now consider the tournament is in March when the weather can be 40 degrees. Scarlett, 7500ish yards, 40 degrees, and a 73 average?! There are only several hundred players in the world that can do this and Michigan State needs four of them (at least).
If you have a scoring differential that's not negative, it does not mean that you cannot play college golf. It also does not mean that you don't have a future in golf. However, it likely means considering schools outside of the top 125 in Golfstat Cup in Division One Golf. When doing the search, if you are serious about a future playing golf, I would encourage you to carefully weigh more than just ranking; find a place where you will have the opportunity to play every event. This will give you 100+ college starts over 4 years, which is likely to provide you a solid foundation in tournament golf to prepare you for the next level.
I hope this article has given junior golfers, their parents and coaches insight into recruiting from a coach's perspective. Having been involved in college athletics for 15+ years, it has been my experience that college golf is a meritocracy and follows the simple principal; if you are good enough, you will make it. So even if right now your game is not at that level, find a place, work hard and compete. No reason we will not see you on TV someday.
Your Reaction?
LIKE

104

LEGIT

10

WOW

10

LOL

2

IDHT

2

FLOP

1

OB

2

SHANK

7
The Gear Dive: TrackMan's Lance Vinson Part 2
In this episode of the Gear Dive, Johnny goes even deeper into the TrackMan data with Tour Rep Lance Vinson. It's a ridiculous nerd out covering what the future holds, who is the most efficient player on tour, who hits it the best and a million other things.
Check out the full podcast on SoundCloud below, or click here to listen on iTunes or here to listen on Spotify.
Want more GolfWRX Radio? Check out our other shows (and the full archives for this show) below. 
Your Reaction?
LIKE

0

LEGIT

0

WOW

0

LOL

0

IDHT

2

FLOP

0

OB

0

SHANK

0
Mondays Off: How is the new PGA schedule looking? Gross golf bag cleaning story!
The new PGA schedule is out and how will so much major golf look in the fall. What golf gear would you buy with your stimulus check if you could blow it all on golf? Knudson has a gross story about cleaning out a golf bag.
Check out the full podcast on SoundCloud below, or click here to listen on iTunes or here to listen on Spotify.
Want more GolfWRX Radio? Check out our other shows (and the full archives for this show) below. 
Your Reaction?
LIKE

1

LEGIT

0

WOW

0

LOL

0

IDHT

0

FLOP

0

OB

0

SHANK

1
Tiger at the Masters: The 3 that got away
This time last year, Tiger Woods earned his fifth green jacket at the 2019 Masters, breaking a 14-year drought at Augusta National and completing a storybook career comeback (see Tiger Woods' 2019 Masters WITB here).
Between his 2005 and 2019 victories, Woods gave himself several chances to reclaim the green jacket, but for one reason or another, the championship continuously eluded the 15-time major winner.
Looking back on that drought, three years in particular stick out in my mind where Woods (being the ruthless closer that he is) could, and maybe should, have capitalized on massive opportunities.
2007 Masters
A unique tournament broke out at the 2007 Masters with chilly and windy conditions meaning we would see an over-par score winning the event for the first time in a generation.
Unusually however was the fact that Tiger Woods had got himself into a fantastic position heading into the final day's play—one stroke back of the lead and in the final group.
By the first hole on Sunday, Woods had a share of the lead. A couple of holes later, and he was the sole leader. But instead of the game's greatest ever closer doing what he does best, we saw the first small chink in Tiger's major armor.
Unable to keep up with the improved scoring on Sunday, Woods finished the championship two strokes behind Zach Johnson. It was the first time Woods lost a major in which he held the lead at some point in the final round.
Summing up after the round why things hadn't turned out the way the entire golf world expected, Woods said
"Looking back over the week I basically blew this tournament with two rounds where I had bogey, bogey finishes. That's 4-over in two holes. The last two holes, you just can't afford to do that and win major championships."
2011 Masters
In one of the most exciting final rounds in Masters history, an electric front-nine charge from Woods coupled with a Rory McIlroy collapse saw the then 35-year-old tied for the lead heading into the back nine.
After back-to-back pars on the challenging 10th and 11th holes, Woods found the green on the 12th before it all slipped away. A disastrous three-putt was followed by a deflating five on the par-5 13th and an agonizing near-miss for birdie on 14.
In typical defiant fashion, Woods then flushed a long iron on the par-5 15th to give him five feet for eagle and what would have been the outright lead. But he couldn't find the cup.
Directly following his round, a visibly miffed Woods said
"I should have shot an easy 3- or 4-under on the back nine and I only posted even. But I'm right there in the thick of it and a bunch of guys have a chance. We'll see what happens."
What happened was eventual champion Charl Schwartzel did what Woods said he should have done—shooting 4 under on the back to win his first major.
2013 Masters
Luck, or lack of, is a contentious topic when it comes to sports fans, but at the 2013 Masters, Woods' shocking fate played out as if those on Mount Olympus were orchestrating the tournament.
Woods entered the 2013 Masters as the World Number One, brimming with confidence having won three out of his first five tournaments to start the year.
By Friday afternoon, Woods had cruised into a share of the lead, before crisply striking a wedge on the par-5 15th as he hunted for another birdie.
In a cruel twist of fate, Woods' ball struck the pin and ricocheted back into the water. "Royally cheated!" shouted on-course announcer David Feherty. Nobody could argue otherwise.
A subsequent "bad drop" turned a probable birdie into a triple-bogey placing Woods behind the proverbial 8-ball for the rest of the tournament. The game's ultimate closer should have been in the lead with two rounds to play on a front-runner's paradise of a course; instead, he was in chase-mode. (From 1991-2012, 19 of the 22 winners came from the final group).
Woods tried to rally over the weekend, but if he didn't think the 2013 Masters was ill-fated for himself by Friday evening, then he would have been excused to do so on the eighth hole on Saturday.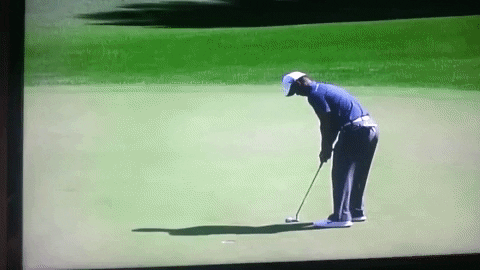 Had Woods' golf ball missed the pin at 15 on that hot and humid Spring afternoon in 2013, then he not only wins, but he likely wins going away.
Your Reaction?
LIKE

35

LEGIT

2

WOW

2

LOL

0

IDHT

0

FLOP

1

OB

0

SHANK

1