Must be the Arby's: Beef Johnston deadlifts 485 lbs
Update: Thanks to WRX member Sam who pointed out: "The correct term for that lift would be a rack pull (weight does not start on the ground)."
An Instagram video posted by the European Tour's Performance Institute shows Beef Johnston readying for a deadlift attempt.
Fueled by Beef 'n Cheddars and curly fries, Johnston steps in for an attempt at hoisting 220kg (485 lbs).
To the uninitiated (me), the feat certainly looked impressive. But just how impressive? I fired up Google to find out…
Per PhysicalLiving.com
"Dan John, suggests in his book, Intervention: Course Corrections For The Athlete And Trainer, that the average weightlifter should be able to deadlift between 1 and 1.5 times their body weight. I think that's a good general recommendation for most people who are interested in health, fitness, longevity, and quality of life. However, Coach Dan John also considers a deadlift using double your bodyweight to be a game-changer. So, there are certainly benefits to be had from doing more than the minimum."
Johnston reportedly weighs 212 pounds. Thus, Beef lifted nearly 2.3 times his body weight.
Impressive stuff (don't tell Brandel Chamblee).
WRXers who lift heavy things, what do you think?
Your Reaction?
LIKE

34

LEGIT

7

WOW

1

LOL

3

IDHT

2

FLOP

3

OB

1

SHANK

8
Tiger Woods hosts Champions Dinner – 'quarantine style'
Tiger Woods hasn't let the postponement of the 2020 Masters stop him from enjoying his April Champions Dinner, doing so 'quarantine style'.
In a post on Twitter, a beaming Woods, in the company of his children Sam and Charlie and his girlfriend Erica Herman, is seen hosting his own Champions Dinner with probably the greatest table centerpiece that's ever been seen.
Woods had initially planned on serving sushi, fajitas and milkshakes at Augusta National this week, saying earlier this year:
"Being born and raised in SoCal, having fajitas and sushi was a part of my entire childhood, and I'm going back to what I had in 2006.

So, we'll have steak and chicken fajitas, and we'll have sushi and sashimi out on the deck, and I hope the guys will enjoy it."
The 44-year-old will get the chance to serve his guests just that in November when the 2020 Masters gets underway.
Your Reaction?
LIKE

11

LEGIT

1

WOW

0

LOL

0

IDHT

0

FLOP

1

OB

0

SHANK

1
The 6 best #GolfWRX photos on Instagram today (4.8.20)
In this segment, we'll be taking a look at some of the best #GolfWRX tagged photos on Instagram. In case you aren't already, there's a whole load of action going on at our page, so follow us: @golfwrx
Let's get to it then, here are six of the best #GolfWRX photos from the past 24 hours.
Throwback to Bernd Wiesberger's Masters stamped wedge.
Great looking covers from Sugar Skull Golf dropping Sunday.
Super Nickel plated BB1 from Embrace Putters.
New divot tools from Tyson Lamb.
A look at Murray Downs Golf and Country Club courtesy of Logan Keighran.
Cookies and Cream custom job from The Golf Garage.
Get hashtagging your golf posts #GolfWRX for your chance to feature in our best of Instagram posts in the future!
Your Reaction?
LIKE

2

LEGIT

0

WOW

0

LOL

0

IDHT

0

FLOP

0

OB

0

SHANK

0
Tiger at the Masters: The 3 that got away
This time last year, Tiger Woods earned his fifth green jacket at the 2019 Masters, breaking a 14-year drought at Augusta National and completing a storybook career comeback (see Tiger Woods' 2019 Masters WITB here).
Between his 2005 and 2019 victories, Woods gave himself several chances to reclaim the green jacket, but for one reason or another, the championship continuously eluded the 15-time major winner.
Looking back on that drought, three years in particular stick out in my mind where Woods (being the ruthless closer that he is) could, and maybe should, have capitalized on massive opportunities.
2007 Masters
A unique tournament broke out at the 2007 Masters with chilly and windy conditions meaning we would see an over-par score winning the event for the first time in a generation.
Unusually however was the fact that Tiger Woods had got himself into a fantastic position heading into the final day's play—one stroke back of the lead and in the final group.
By the first hole on Sunday, Woods had a share of the lead. A couple of holes later, and he was the sole leader. But instead of the game's greatest ever closer doing what he does best, we saw the first small chink in Tiger's major armor.
Unable to keep up with the improved scoring on Sunday, Woods finished the championship two strokes behind Zach Johnson. It was the first time Woods lost a major in which he held the lead at some point in the final round.
Summing up after the round why things hadn't turned out the way the entire golf world expected, Woods said
"Looking back over the week I basically blew this tournament with two rounds where I had bogey, bogey finishes. That's 4-over in two holes. The last two holes, you just can't afford to do that and win major championships."
2011 Masters
In one of the most exciting final rounds in Masters history, an electric front-nine charge from Woods coupled with a Rory McIlroy collapse saw the then 35-year-old tied for the lead heading into the back nine.
After back-to-back pars on the challenging 10th and 11th holes, Woods found the green on the 12th before it all slipped away. A disastrous three-putt was followed by a deflating five on the par-5 13th and an agonizing near-miss for birdie on 14.
In typical defiant fashion, Woods then flushed a long iron on the par-5 15th to give him five feet for eagle and what would have been the outright lead. But he couldn't find the cup.
Directly following his round, a visibly miffed Woods said
"I should have shot an easy 3- or 4-under on the back nine and I only posted even. But I'm right there in the thick of it and a bunch of guys have a chance. We'll see what happens."
What happened was eventual champion Charl Schwartzel did what Woods said he should have done—shooting 4 under on the back to win his first major.
2013 Masters
Luck, or lack of, is a contentious topic when it comes to sports fans, but at the 2013 Masters, Woods' shocking fate played out as if those on Mount Olympus were orchestrating the tournament.
Woods entered the 2013 Masters as the World Number One, brimming with confidence having won three out of his first five tournaments to start the year.
By Friday afternoon, Woods had cruised into a share of the lead, before crisply striking a wedge on the par-5 15th as he hunted for another birdie.
In a cruel twist of fate, Woods' ball struck the pin and ricocheted back into the water. "Royally cheated!" shouted on-course announcer David Feherty. Nobody could argue otherwise.
A subsequent "bad drop" turned a probable birdie into a triple-bogey placing Woods behind the proverbial 8-ball for the rest of the tournament. The game's ultimate closer should have been in the lead with two rounds to play on a front-runner's paradise of a course; instead, he was in chase-mode. (From 1991-2012, 19 of the 22 winners came from the final group).
Woods tried to rally over the weekend, but if he didn't think the 2013 Masters was ill-fated for himself by Friday evening, then he would have been excused to do so on the eighth hole on Saturday.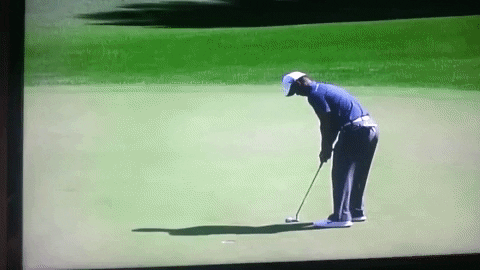 Had Woods' golf ball missed the pin at 15 on that hot and humid Spring afternoon in 2013, then he not only wins, but he likely wins going away.
Your Reaction?
LIKE

31

LEGIT

1

WOW

2

LOL

0

IDHT

0

FLOP

1

OB

0

SHANK

1