The Florida Mid-Am final ended with a player getting punched in the face. Or did it?
On paper–that is the Florida State Golf Association's paper, not the police report–Marc Dull won the Florida Mid-Am when his opponent, Jeff Golden, withdrew.
Dull had just birdied the 16th hole to pull even, when the skies opened.
A FSGA statement on the final match indicates what happened next
"With the players on 17, play was halted by heavy rains. When conditions permitted play to continue nearly two and a half hours later, Golden was unable to continue due to an unfortunate injury and defaulted the match."
Indeed, the statement is technically correct. However, it hardly tells the full story…and what a story it is.
Golf Channel's Ryan Lavner did some digging into the "unfortunate injury," and what he found was certainly surprising.
Per a Charlotte County Sheriff's Office police report, Jeff Golden (the man who suffered the "unfortunate injury") called police. Golden claimed he was assaulted in the Coral Creek Club parking lot by his opponent's caddie. According to Golden, Dull's caddie, Brandon Hibbs, punched him in the face.
Why in the world did this happen? Apparently, during the ninth hole of the Golden-Dull match, Golden asked Dull about the condition of one of the holes, inquiring as to whether the cup was damaged.
"Don't worry about it," Hibbs (again, this is Dull's caddie) told Golden. "If you're going to make it, you're going around it."
Following this, Golden told a rules official that he believed the caddie's statement constituted advice (to Golden, who was not his player). Apparently/incredibly, the rules official agreed, and Golden was awarded the hole.
Hibbs, presumably furious, left the course at this point and returned to the clubhouse.
During the previously mentioned rain delay that interrupted the match, Golden claims Hibbs approached him in the parking lot while he was at his car getting additional clothing.
Per the report, Hibbs "approached him, apologized, then punched him on the left side of the face."
Now this story would be ridiculous enough if these facts were agreed upon. However, Hibbs says the incident never happened. He claims after leaving the course, he was in the clubhouse during the entire rain delay.
Nobody saw the alleged attack, and there were no surveillance cameras trained on the parking lot. Further, Golden's face was not swollen or cut and Hibbs' hands showed no evidence that he'd punched anything.
Golden maintains he was punched and that his shirt had blood on it, also claiming that he suffered "concussion symptoms."
Golden declined to press charges, and both Hibbs and Dull maintain nothing happened.
Per Ryan Lavner, FSGA executive director Jim Demick said that Golden "didn't want to play anymore."
"Regrettably, the golf course was very playable and Jeff understood that he needed to resume the match. I think he was just ready to go," adding police "found absolutely no evidence of an assault."
What do you make of this, GolfWRX members? The scales of justice don't seem to be tipped in Mr. Golden's favor, do they?
Your Reaction?
LIKE

23

LEGIT

1

WOW

12

LOL

9

IDHT

3

FLOP

0

OB

1

SHANK

8
Tiger at the Masters: The 3 that got away
This time last year, Tiger Woods earned his fifth green jacket at the 2019 Masters, breaking a 14-year drought at Augusta National and completing a storybook career comeback (see Tiger Woods' 2019 Masters WITB here).
Between his 2005 and 2019 victories, Woods gave himself several chances to reclaim the green jacket, but for one reason or another, the championship continuously eluded the 15-time major winner.
Looking back on that drought, three years in particular stick out in my mind where Woods (being the ruthless closer that he is) could, and maybe should, have capitalized on massive opportunities.
2007 Masters
A unique tournament broke out at the 2007 Masters with chilly and windy conditions meaning we would see an over-par score winning the event for the first time in a generation.
Unusually however was the fact that Tiger Woods had got himself into a fantastic position heading into the final day's play—one stroke back of the lead and in the final group.
By the first hole on Sunday, Woods had a share of the lead. A couple of holes later, and he was the sole leader. But instead of the game's greatest ever closer doing what he does best, we saw the first small chink in Tiger's major armor.
Unable to keep up with the improved scoring on Sunday, Woods finished the championship two strokes behind Zach Johnson. It was the first time Woods lost a major in which he held the lead at some point in the final round.
Summing up after the round why things hadn't turned out the way the entire golf world expected, Woods said
"Looking back over the week I basically blew this tournament with two rounds where I had bogey, bogey finishes. That's 4-over in two holes. The last two holes, you just can't afford to do that and win major championships."
2011 Masters
In one of the most exciting final rounds in Masters history, an electric front-nine charge from Woods coupled with a Rory McIlroy collapse saw the then 35-year-old tied for the lead heading into the back nine.
After back-to-back pars on the challenging 10th and 11th holes, Woods found the green on the 12th before it all slipped away. A disastrous three-putt was followed by a deflating five on the par-5 13th and an agonizing near-miss for birdie on 14.
In typical defiant fashion, Woods then flushed a long iron on the par-5 15th to give him five feet for eagle and what would have been the outright lead. But he couldn't find the cup.
Directly following his round, a visibly miffed Woods said
"I should have shot an easy 3- or 4-under on the back nine and I only posted even. But I'm right there in the thick of it and a bunch of guys have a chance. We'll see what happens."
What happened was eventual champion Charl Schwartzel did what Woods said he should have done—shooting 4 under on the back to win his first major.
2013 Masters
Luck, or lack of, is a contentious topic when it comes to sports fans, but at the 2013 Masters, Woods' shocking fate played out as if those on Mount Olympus were orchestrating the tournament.
Woods entered the 2013 Masters as the World Number One, brimming with confidence having won three out of his first five tournaments to start the year.
By Friday afternoon, Woods had cruised into a share of the lead, before crisply striking a wedge on the par-5 15th as he hunted for another birdie.
In a cruel twist of fate, Woods' ball struck the pin and ricocheted back into the water. "Royally cheated!" shouted on-course announcer David Feherty. Nobody could argue otherwise.
A subsequent "bad drop" turned a probable birdie into a triple-bogey placing Woods behind the proverbial 8-ball for the rest of the tournament. The game's ultimate closer should have been in the lead with two rounds to play on a front-runner's paradise of a course; instead, he was in chase-mode. (From 1991-2012, 19 of the 22 winners came from the final group).
Woods tried to rally over the weekend, but if he didn't think the 2013 Masters was ill-fated for himself by Friday evening, then he would have been excused to do so on the eighth hole on Saturday.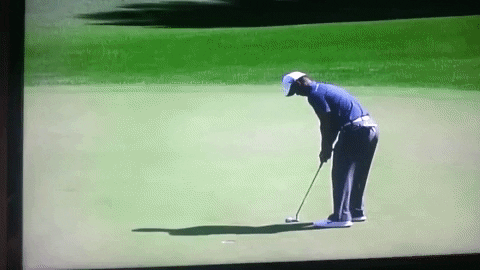 Had Woods' golf ball missed the pin at 15 on that hot and humid Spring afternoon in 2013, then he not only wins, but he likely wins going away.
Your Reaction?
LIKE

14

LEGIT

1

WOW

1

LOL

0

IDHT

0

FLOP

1

OB

0

SHANK

1
The 6 best #GolfWRX photos on Instagram today (4.7.20)
In this segment, we'll be taking a look at some of the best #GolfWRX tagged photos on Instagram. In case you aren't already, there's a whole load of action going on at our page, so follow us: @golfwrx
Let's get to it then, here are six of the best #GolfWRX photos from the past 24 hours.
"Flow inspired" from Goodwood.
Awesome Tiger King giveaway from Rawhide Golf.
Beautiful looking work on this flat-stick from The Golf Garage.
Pre-orders now available on Bettinardi's Queen B 6 SBS.
Frank mallet covers from MSquare Design.
Masters themed copper plated Studio Design 2 from Embrace Putters.
Get hashtagging your golf posts #GolfWRX for your chance to feature in our best of Instagram posts in the future!
Your Reaction?
LIKE

3

LEGIT

0

WOW

0

LOL

0

IDHT

0

FLOP

0

OB

0

SHANK

4
All the details of the Masters coverage being broadcast this week
The 2020 Masters may be postponed until November, but during what was initially scheduled to be 'Masters week' there's still plenty of ways for you to get your fix from the iconic championship.
Full final-round coverage of both Tiger Woods' 2019 victory and Phil Mickelson's 2004 triumph are just two of the highlights you can look forward to this weekend, with a bundle of action being showcased across different networks.
Here's a full rundown of the coverage various networks are putting on this week.
*All times ET*
Golf Channel
Monday:
2:30PM: 1960 Masters highlights, Arnold Palmer

4:30PM: 1962 Masters highlights, Arnold Palmer

6:30PM: 1964 Masters highlights, Arnold Palmer

8PM: Celebrating the Masters
Tuesday:
2:30PM: 1974 Masters highlights, Gary Player

6:30PM: 1978 Masters highlights, Gary Player

8PM: Celebrating the Masters
Wednesday:
10AM: 1968 Masters highlights, Bob Goalby

12:15PM: 1970 Masters highlights, Billy Casper

6:15PM: 1986 winner's news conference, Jack Nicklaus
Thursday:
10:30AM: 1987 Masters highlights, Larry Mize

12PM: 1977 Masters highlights, Tom Watson

1.30PM: 1981 Masters highlights, Tom Watson

4.30PM: 1962 Masters highlights, Arnold Palmer

6.30PM: 1964 Masters highlights, Arnold Palmer

7:30PM: 2012 winner's news conference, Bubba Watson 

11PM: 1997 winner's news conference, Tiger Woods
Friday: 
10AM: 1980 Masters highlights, Seve Ballesteros

11:30AM: 1983 Masters highlights, Seve Ballesteros

6PM: 2013 winner's news conference, Adam Scott

11PM: 2005 winner's news conference, Tiger Woods
Saturday: 
9:30AM: 1989 Masters highlights, Nick Faldo 

1:30PM: 1986 Masters highlights, Jack Nicklaus

6pm: 2004 winner's news conference, Phil Mickelson
Sunday:
6PM: 2019 Live From the Masters
CBS
Saturday:
1:30PM: 1975 final-round highlights, Jack Nicklaus 

2004 final round, Phil Mickelson 
Sunday:
12:30PM: 2019 final round, Tiger Woods 
ESPN
Thursday:
3PM: 2012 final round, Bubba Watson

7:30PM: 1997 final round, Tiger Woods 
Friday: 
12PM: 2013 final round, Adam Scott

6PM: 2005 final round, Tiger Woods
All final round broadcasts from 1968 through 2019 are also available to watch now in their entirety on The Masters YouTube channel.
Your Reaction?
LIKE

2

LEGIT

0

WOW

0

LOL

0

IDHT

0

FLOP

0

OB

0

SHANK

0