The effect that the NCAA's new recruiting rules will have on college golf
The current NCAA rules allow students to make unofficial visits any time, and make official visits (definitions for "visits" at the bottom of the article) starting September 1 of the player's Senior year. Over the past five years, these unofficial visits have started earlier and earlier, as the sport has started to experience younger athletes making commitments. Last week that rule changed; the new rule, effective immediately, will prevent student athletes from making visits involving athletic staff before September 1 of their junior year, however coaches will be able to pay for official visits starting September 1 of the players Junior year.
In summation:
Old Rule: Prospective Student Athletes (PSA) can make unofficial visits any time. They can make official visits starting September 1 of their Senior year of High School.
New Rule: Effective immediately, PSA cannot meet on campus with a coach until September 1 of their Junior Year, however coaches can start to pay for official visits starting September 1 of the prospective student athlete's junior year.
The adoption of this legislation signals a major paradigm shift in recruiting among college coaches. Data collected by GolfWRX,suggests that not all coaches support the new rule, however. Through an online, optional survey, GolfWRX was able to collect feedback from 60 NCAA Men's and Women's coaches; 51 percent of respondents identified themselves as women's coaches, and 49 percent of respondents identified themselves as men's coaches.
The first question we asked coaches: "Are you in favor of the resolution which prevents players from visiting before September 1 of their Junior year?" In response, 51 percent of respondents suggested they where in favor, including Bradley women's coach Mary Moan.
"The more time we can give athletes to explore their options thoughtfully the better," Moan said. "There is such an urgency to verbally commit that players may not be making the best choice with the limited information they have. In the long run, this rule, allows players to mature and have more time to explore options."
The second question we asked coaches: "Do you think the rule will prevent early commitments?" Nearly 60 percent of respondents said, "No." According to comments collected anonymously as part of the survey, many coaches think the legislation will simply nudge coaches to use other methods to interact with recruits, such as camps. Steve Runge, the Head Men's Coach at University of Central Arkansas and former college standout at Ohio State said, "while you want to do what's right for the student athlete, it is important that coaches keep to the intention of the rule and allow young people the time to properly develop, as well as explore all their options".
As a former college coach myself, and someone with an academic training and strong interest in behavioral economics, it will be interesting to see the long-term impact of the rule. Colleagues in other sports where this legislation has been adopted have suggested similar rules in their sports have not been overly effective, as coaches simply have more camps and clinics where they can not only interact with younger players but can also make money. The new rule also opens potential interference from either club reps/apparel reps, college advisors, high school coaches and swing instructors who could look to capitalize on the later time table, acting as middle men in the recruitment process.
While the rules do take a step towards protecting PSA from making decisions early, they don't fully address the problem facing the typical recruit, which is the issue of bad information. At the root of the issue is the lack of useful information for PSA, their families and coaches. It's important for PSA to use a wide range of resources to help them make the best choice for them and thirr future.
As the rule nudges visits after September 1 of players Junior Year, it may also have a fiscal and scheduling impacts. These visits, funded fully or in part by the college or university, have been significantly decreasing as the time table for players have moved up. Shifting the timing back makes it more likely they will again be a part of both recruiting, as well as a line item in budgets. For some schools, this will mean they can make less investment in the student athlete experience. The rule may also have a significant impact on Fall schedules as many schools such as Norte Dame, Stanford and Alabama look to make sure they can entertain their best recruits on major football weekends.
One cannot help but applaud the intentions of the NCAA; to serve the best interest of the student athlete. However, one can question their understanding of the process; while coaches need to be held accountable, so do college advisors, media outlets, agents, industry reps and others. This rule does nothing to better frame their roles and accountability in the process and it is my feeling that until that happens, it will be much of the same.
In the future there is also talk of other significant rules changes. New legislation likely to become effective in early August will limit the days coaches can recruit off-campus to 45 days. To put this in perspective, when I coached at the University of Kentucky, I recruited approximately 150 days per year. Cutting those days by a third will handcuff coaches; they will need to make quicker decisions, which could result in earlier offers with shorter windows to accept. It could also lead to a lot of offers on players who coaches have not watched, which over the long term could lead to an increase in transfers.
Another potential rule will limit recruiting during the month of December, allowing coaches to have more of a break during the holidays. During my 8 years of college coaching, I was never home once at Christmas. Instead I was at either Doral, the South Beach Amateur, the Orange Bowl or watching National teams at training camps. I can therefore appreciate how this can impact the quality of family life, however, I think the rule will have significant consequences for the late developer who uses tournaments like the AJGA Senior Showcase and Doral (both in December) to demonstrate to coaches their skill. This is particularly true for players from outside the United States, who might not be as savvy with the NCAA rules.
Definitions
Unofficial Visit: when the recruit, and their family, pay for all costs associated with visiting a school. During the visit the prospective student athlete can meet coaches and teams, as well as tour academic and athletic facilities within a 30-mile radius.
Official Visit: When the athletic department pay for part or all the cost associated with the trips for the student athlete. The parents must pay their own costs.
Your Reaction?
LIKE

37

LEGIT

11

WOW

3

LOL

2

IDHT

3

FLOP

2

OB

2

SHANK

5
How Tiger Woods lost the 2009 PGA Championship
11 years ago, the PGA Championship produced one of the greatest upsets in sporting history.
The all-conquering Tiger Woods arrived at the 2009 PGA Championship as the prohibitive favorite, having won three of his last four events. Woods then backed up that favoritism over the opening two days, picking apart Hazeltine National with extreme precision to build a four-stroke advantage by the halfway point.
It felt like such a formality that here in Ireland, our biggest bookmaker, PaddyPower declared Tiger as the winner and decided to pay out all outright bets on the World Number One after just 36 holes.
It proved to be a big mistake.
Next week will be the 11th anniversary of the monumental upset, and here I'll take a look at the factors behind Woods' unthinkable loss that week to Y.E. Yang.
Tiger's Ultra-Conservative Saturday
On a scoring Saturday, Woods was too content to play it safe. Why not? After all, the ultimate closer had won so many majors by forging a lead, aiming for the middle of the green, two-putting for par and watching his opponents slowly falter one by one.
Only this time was different, and even Tiger with a two-shot lead going into Sunday's final round as much as admitted he was too conservative during round three, saying after his round:
"They gave us a lot of room on a lot of these pins, six and seven even from the side, so you can be fairly aggressive. I just felt that with my lead, I erred on the side of caution most of the time.

"If I did have a good look at it, a good number at it, I took aim right at it. Otherwise I was just dumping the ball on the green and 2-putting."
The incessant safety first, lag putting strategy of Saturday even transformed into a tentativeness at the beginning of Sunday's final round.
On the par-five seventh hole, with Yang in trouble, Woods had 245 yards to the pin for his second with a huge opportunity to make a statement eagle or textbook birdie. He inexplicably layed up, hit a poor wedge and once again lagged for par.
Horrific Sunday Putting
To say Tiger's trusty Scotty Cameron betrayed him during Sunday's final round would be underselling it. Putt after putt just refused to drop when he needed it most.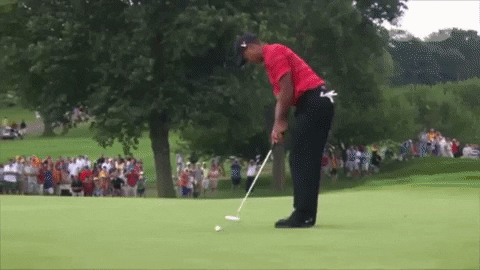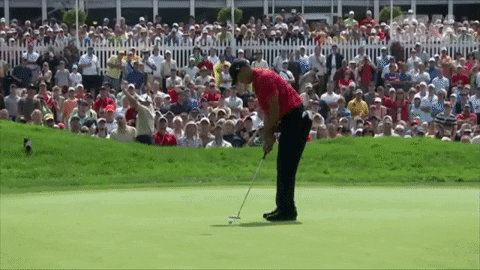 In the end, Woods' seven-foot birdie effort on the 14th hole is the only putt of any note he managed to make on the day.
Tiger played Sunday's final round in 75 strokes. Thirty-three of them were putts.
Yang Stood Up To Tiger
Critics of Woods have long claimed that in his prime, Tiger would crowd his opponents as an intimidation tactic, or rush off the green to the next tee leaving his competitors to putt out while the crowd dispersed.
Regardless, nothing was going to faze Yang that Sunday.
In fact, during the early stretch of the final round, Tiger's indecision and tentativeness led to the pairing being behind the pace of play. It forced on-course officials to remind the two that they needed to speed it up—and of course, they only stressed that Yang needed to do so.
How did the Korean respond? By pointing at Tiger and saying "Not me. Him."
The Pivotal Two-Shot Swing
Many look back on Yang's chip-in eagle to take the lead at the 14th hole on Sunday as the significant turning point of the Championship. However, Yang was always likely to make birdie on the short par-four hole, and the previous hole may well have been the tipping point for the upset.
On the par-three 13th hole, Yang found the bunker, while Woods hit a beauty to eight feet. The two-shot swing in Tiger's favor looked even more likely when Yang failed to get his bunker shot inside Woods' ball.
But when Yang buried his par effort, and Woods let yet another putt slip by, the two remained all square.
Woods' reaction following his putt was telling; his frustration poured out despite him still being in a share of the lead. It was a show of exasperation that may have given the Korean all the encouragement he needed to turn Tiger's 54 hole major lead record of 14-0 into 14-1.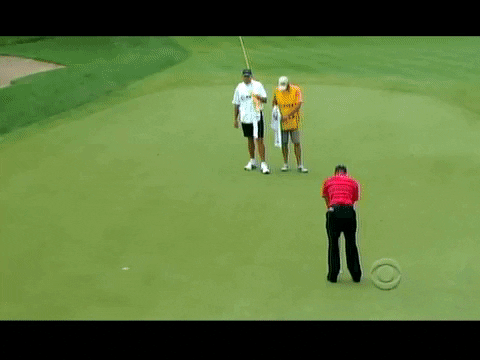 Asked following his round when he felt his control on the tournament beginning to loosen, Woods said:
"But as far as the tournament switching, 13, I stuffed it in there. He made a mistake, hit it in the left bunker. He blasted out. I missed my putt. He made his. And then he chipped in on the next hole.

"So that two-hole stretch turned — if I make my putt, he doesn't chip in, you know, he doesn't make his putt on 13."
The 2009 PGA Championship preceded a ten-year barren spell for Tiger at the majors before he claimed his fifth green jacket at the 2019 Masters. He is still yet to appear in the final twosome on a Sunday at a major since the 2009 PGA.
As for Y.E Yang, the 48-year-old now spends most of his time competing in Japan and his native Korea. He has played in all 10 PGA Championships since his remarkable victory. He has missed the cut seven times.
Your Reaction?
LIKE

23

LEGIT

9

WOW

3

LOL

3

IDHT

1

FLOP

1

OB

0

SHANK

12
The Gear Dive: Brandel Chamblee is back!
In this episode of TGD brought to you by Titleist, Johnny goes in on the distance debate with a friend of the podcast, Brandel Chamblee. Also picks for the WGC, filling a hole in the bag and why the LPGA is the best place to learn how to play.
Check out the full podcast on SoundCloud below, or click here to listen on iTunes or here to listen on Spotify.
Want more GolfWRX Radio? Check out our other shows (and the full archives for this show) below. 
Your Reaction?
LIKE

4

LEGIT

0

WOW

0

LOL

0

IDHT

0

FLOP

0

OB

0

SHANK

7
How to warm up like a PGA Tour pro
One of the keys to playing a great round of golf stems from how you prepare for your round. When you go to the range, you'll often see amateur golfers hitting shots quickly and sporadically without much rhyme or reason. On the other hand, when you take a look at players on the PGA Tour, each of them has a well structured and methodical approach to how they warm-up.
From watching the pros, there are a few key takeaways that you can implement in your game to improve the quality of your warm-ups.
Arrive Early
Give yourself enough time to warm up before your round. Showing up 10 minutes before you're due to tee off is a recipe for disaster and a double bogey waiting to happen on the first hole. Allowing yourself 30 minutes to an hour should be plenty of time to get through an awesome warm-up, leaving you confident when you step onto the first tee box.
Spend More Time Putting
Whether you watch Tiger Woods, Justin Thomas or any other pro, one thing is consistent: they all spend a lot of their warm-up practicing putting, accounting for well over half their practice strokes. And why wouldn't they? If you 2 putt every hole, you'll be hitting 36 shots, literally half of all your strokes during the course of your round.
Practicing both long and short putts will give you more confidence standing over your first birdie putt of the day.
Loosen Up
A little bit of stretching before you start hitting shots on the range can go a long way. Stretching before you start will activate your muscles for the day ahead. Spend some time doing bending toe touches, shoulder stretches, lateral twists, and a standing forward bend stretch to maximize your range session.
Work Your Way Up The Bag
When you watch a pro like Jason Day warm-up, you'll notice when he gets to the range that he'll start out by hitting shots with a wedge, working up the bag. This is how most pros structure their warm-up for the most part, and they do so to establish rhythm and tempo as they move into their longer irons and woods.
Try this out yourself by hitting some wedges, and then move up your bag using all even or all odd irons. Place emphasis on your short game as you move through your bag; the shots you hit inside 100 yards will lead you to the most scoring opportunities.
Hit Fewer Drives on the Range
It's fun to hit the driver, but it's one of the most taxing swings you can make. Plenty of amateur golfers spend way too much time hitting their driver on the range, and wearing themselves out before they get to the first tee. By doing so, not only do you tire yourself out, but you risk throwing off the swing tempo that you've worked so hard on during your warm-up.
Definitely still practice hitting drives, but make them count. Try only hitting 5-10 drives, but treating them as if they were on the course.
Hit Practice Shots With Purpose
It's really easy to get onto the range and start hitting shot after shot in quick succession, trying to get the right swing out as quickly as possible. Not only does this use up a lot of your energy, but it's not too realistic compared to how you'll approach your shots on the course.
Instead, take the methodical approach and try to make each shot count. Take the time to set up correctly, paying attention to alignment and ball positioning. Hitting more shots with real intention on the range sets you up for success when you hit the course.
Wrap Up
Implementing some of this structure into your pre-round routine will put you into a position to score. Practicing more putts and placing emphasis on your short game will help you save strokes where they count. These tips will help you take a better approach to golf.
Your Reaction?
LIKE

108

LEGIT

12

WOW

0

LOL

1

IDHT

0

FLOP

0

OB

1

SHANK

3