Fake News and Golf Instruction: Caution in the Age of Click Bait
Lose 20 pounds in two weeks. Hit it like Rory.
Cure your insomnia once and for all. Work it like DJ.
Learn to speak Spanish in one week. Never slice, hook, shank, top, hit fat, pull, or push again. 
As one who makes his living teaching a game that is very difficult (and borders on impossible at times), it never ceases to amaze me that I continue to see articles titled the likes of above. Does anyone really think that reading an article is really going to help them hit their driver like Rory… or get up and down every time… or work the ball like a tour pro… or stop a slice or hook forever? Really?
I can assure you these things are not likely to happen… at least not to the degree they are billed. Over the last 35 years on the lesson tee, I've seen golfers of all stripes struggle mightily to make small swing changes. Rarely does anyone make significant improvements overnight, let alone after reading one article. Golf swings change glacially. In a two-year span, I helped a student go from an 18-handicap to an 8. There was even one who went from 14 to a scratch over a period of time, but he was also a former professional athlete. What's important to remember is that these progressions happened over years. They're also rare.
Readers must consider that the author of any given article probably never saw you swing. So to adopt a "this-is-for-everybody" approach is misleading in my view of learning golf. It seems there is almost nothing that every great golfer does except hit it solid. The idea that there is a magic move that will change it all is anathema to my experience.
Once you know WHAT to do in the golf swing,  you have to learn HOW to do it. I suggest you find someone to guide you through that process, but that is an individual choice. Remember all that your mentor/coach/teacher can do is tell you what… not how. The how part is in the dirt, and it comes out of the dirt s-l-o-w-l-y.
"So if articles don't help golfers improve, then why do you write them," you might be thinking. I try to steer clear of titles that are designed to get more readers; I certainly don't need more students. (The only good thing about getting a little older is one wants less, not more.) Many of you have told me that my shared insights have helped your games in some small ways. That has been the aim all along.
My teaching style is what I call ""if THIS, then THAT." I try to relate what I've seen work for a variety of swing problems. If it helps, great! If something someone else suggested helps, great! Remember that improvement is not all-or-nothing. Every little change helps a lot. If you're steep and you get less steep, great! If you're outside-in, and you get less so, great! Sure, maybe you're not inside yet, but you are on your way. You know what to work on. A lot of students seem to think that if they are not doing something totally right, they're not improving. That's a huge misconception.
Golfers will only get better by admitting they have a swing issue and seeking some ways to improve it. While I'm certain some fortunate few have made great strides quickly, the masses plod progressively and hopefully along. I have never claimed to work magic or reveal some secret method that is going to make golfers think about giving up the day job. Golf is a hard game, and we have to improve at it by grinding it out a little at a time.
It's the journey, not the destination that offers the most joy… and how pleasant the journey can be when you don't expect to get flat abs overnight… or add 30 yards to your drives.
Your Reaction?
LIKE

122

LEGIT

10

WOW

2

LOL

2

IDHT

1

FLOP

3

OB

1

SHANK

9
On Spec: Talking Kirkland wedge, LPGA Tour, and teased irons from TaylorMade & Mizuno
In this episode of On Spec, host Ryan talks about the recently discovered Kirkland Signature wedges on the USGA Conforming list, as well as what recently spotted TaylorMade and Mizuno irons may have in store
Also with the LPGA Tour back in action, Ryan also discussed why it is a good idea to check out how LPGA players gap their bags compared to players on the PGA Tour.
Check out the full podcast on SoundCloud below, or click here to listen on iTunes or here to listen on Spotify.
Want more GolfWRX Radio? Check out our other shows (and the full archives for this show) below. 
Your Reaction?
LIKE

1

LEGIT

0

WOW

0

LOL

0

IDHT

0

FLOP

0

OB

0

SHANK

1
How Tiger Woods lost the 2009 PGA Championship
11 years ago, the PGA Championship produced one of the greatest upsets in sporting history.
The all-conquering Tiger Woods arrived at the 2009 PGA Championship as the prohibitive favorite, having won three of his last four events. Woods then backed up that favoritism over the opening two days, picking apart Hazeltine National with extreme precision to build a four-stroke advantage by the halfway point.
It felt like such a formality that here in Ireland, our biggest bookmaker, PaddyPower declared Tiger as the winner and decided to pay out all outright bets on the World Number One after just 36 holes.
It proved to be a big mistake.
Next week will be the 11th anniversary of the monumental upset, and here I'll take a look at the factors behind Woods' unthinkable loss that week to Y.E. Yang.
Tiger's Ultra-Conservative Saturday
On a scoring Saturday, Woods was too content to play it safe. Why not? After all, the ultimate closer had won so many majors by forging a lead, aiming for the middle of the green, two-putting for par and watching his opponents slowly falter one by one.
Only this time was different, and even Tiger with a two-shot lead going into Sunday's final round as much as admitted he was too conservative during round three, saying after his round:
"They gave us a lot of room on a lot of these pins, six and seven even from the side, so you can be fairly aggressive. I just felt that with my lead, I erred on the side of caution most of the time.

"If I did have a good look at it, a good number at it, I took aim right at it. Otherwise I was just dumping the ball on the green and 2-putting."
The incessant safety first, lag putting strategy of Saturday even transformed into a tentativeness at the beginning of Sunday's final round.
On the par-five seventh hole, with Yang in trouble, Woods had 245 yards to the pin for his second with a huge opportunity to make a statement eagle or textbook birdie. He inexplicably layed up, hit a poor wedge and once again lagged for par.
Horrific Sunday Putting
To say Tiger's trusty Scotty Cameron betrayed him during Sunday's final round would be underselling it. Putt after putt just refused to drop when he needed it most.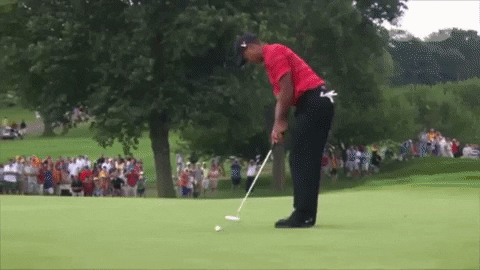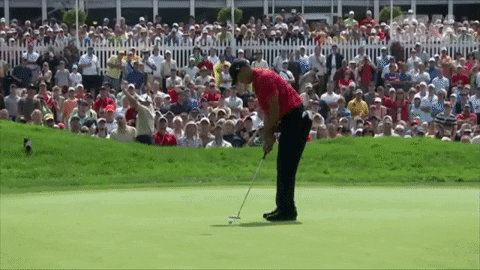 In the end, Woods' seven-foot birdie effort on the 14th hole is the only putt of any note he managed to make on the day.
Tiger played Sunday's final round in 75 strokes. Thirty-three of them were putts.
Yang Stood Up To Tiger
Critics of Woods have long claimed that in his prime, Tiger would crowd his opponents as an intimidation tactic, or rush off the green to the next tee leaving his competitors to putt out while the crowd dispersed.
Regardless, nothing was going to faze Yang that Sunday.
In fact, during the early stretch of the final round, Tiger's indecision and tentativeness led to the pairing being behind the pace of play. It forced on-course officials to remind the two that they needed to speed it up—and of course, they only stressed that Yang needed to do so.
How did the Korean respond? By pointing at Tiger and saying "Not me. Him."
The Pivotal Two-Shot Swing
Many look back on Yang's chip-in eagle to take the lead at the 14th hole on Sunday as the significant turning point of the Championship. However, Yang was always likely to make birdie on the short par-four hole, and the previous hole may well have been the tipping point for the upset.
On the par-three 13th hole, Yang found the bunker, while Woods hit a beauty to eight feet. The two-shot swing in Tiger's favor looked even more likely when Yang failed to get his bunker shot inside Woods' ball.
But when Yang buried his par effort, and Woods let yet another putt slip by, the two remained all square.
Woods' reaction following his putt was telling; his frustration poured out despite him still being in a share of the lead. It was a show of exasperation that may have given the Korean all the encouragement he needed to turn Tiger's 54 hole major lead record of 14-0 into 14-1.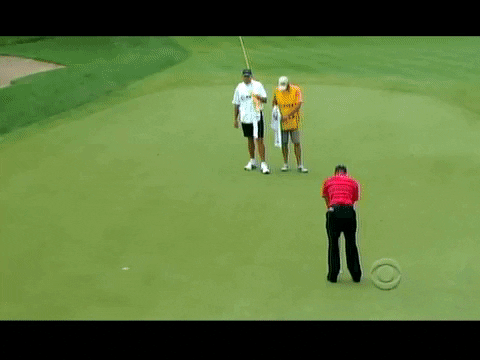 Asked following his round when he felt his control on the tournament beginning to loosen, Woods said:
"But as far as the tournament switching, 13, I stuffed it in there. He made a mistake, hit it in the left bunker. He blasted out. I missed my putt. He made his. And then he chipped in on the next hole.

"So that two-hole stretch turned — if I make my putt, he doesn't chip in, you know, he doesn't make his putt on 13."
The 2009 PGA Championship preceded a ten-year barren spell for Tiger at the majors before he claimed his fifth green jacket at the 2019 Masters. He is still yet to appear in the final twosome on a Sunday at a major since the 2009 PGA.
As for Y.E Yang, the 48-year-old now spends most of his time competing in Japan and his native Korea. He has played in all 10 PGA Championships since his remarkable victory. He has missed the cut seven times.
Your Reaction?
LIKE

24

LEGIT

9

WOW

3

LOL

3

IDHT

1

FLOP

1

OB

0

SHANK

13
The Gear Dive: Brandel Chamblee is back!
In this episode of TGD brought to you by Titleist, Johnny goes in on the distance debate with a friend of the podcast, Brandel Chamblee. Also picks for the WGC, filling a hole in the bag and why the LPGA is the best place to learn how to play.
Check out the full podcast on SoundCloud below, or click here to listen on iTunes or here to listen on Spotify.
Want more GolfWRX Radio? Check out our other shows (and the full archives for this show) below. 
Your Reaction?
LIKE

4

LEGIT

0

WOW

0

LOL

0

IDHT

0

FLOP

0

OB

0

SHANK

7