Swanson: The Green Jacket would be Spieth's if he knew anything about iron design
Warning: Swanson, the author of this story, does not exist… except in his writing. His character is completely imagined, but that doesn't mean his opinions aren't real. 
—
Recently, I shared with the GolfWRX community my golden nuggets for selecting the 14 clubs in your bag, as to abide by the USGA maximum club rule. Some of you were astoundingly unappreciative. I've been getting hate mail and negative comments since it's been published.
Therefore, I'd like to use the first half of this story to address the responses, which are utterly appalling. The second half of this week's article will be dedicated to an equipment tip for Jordan Spieth to improve his game and avoid any future meltdowns.
Responding to the Hate
1)
Swanson: "Duffer," you sound like quite the stick. But think about this: If I couldn't hit a 1-iron better than Hogan (he actually hit it too low), would you care what I had to say? Golfers always complain that the best teachers can't play a lick or hit it out of their shadow. Consider me your saving grace. How's this: I'll play each of the top-100 teachers in match play, and we'll see who knows more about golf.
2)
Swanson: Loser? I remember the last time I needed a 2-iron to reach a par 5. It was around when Bush was in office… Bush Sr. If you want to play for big prize money, you can find me at my country club every week with a locker full of cash and a tee time.
3)
Swanson: 17 handicap, yes. When I play the entire round with a putter.
4)
Swanson: Stab at Ian Poulter? Uh no, he's a family friend. My father sold Poults his first Ferrari back in '92 before my father bought Ferrari (the company).
5)
Swanson: Funny story. I'm good buddies with the character on which Spaulding Smails is based. He's a "good egg," as they say. And in case you haven't noticed, I'm named after the driver of the boat in Caddyshack, since my father loves boats and yachts.
"Move over Swanson, I'm driving!" Just never gets old!
6)
Swanson: They're handmade by the Dalai Lama's right-hand man, and I have his cell number if you're serious. Message me and I'll get you a price estimate.
7) 
Swanson: The last part of the last sentence was spot on.
An equipment tip for Jordan Spieth
I actually feel bad for Jordan. He probably thinks he choked The Masters away. I mean he did, but it wasn't his fault. I went through literally the same exact thing, so I know what happened.
You see, I've also hit a tee shot into the water on No. 12 at Augusta National (I also used the drop zone and got up and down for bogey, but that's not the point). I got fit for new irons the week before I played Augusta for the first time. Admittedly, I wasn't the stellar ball striker I am now, so the fitter put me into a set of game-improvement style irons. You know, thick top line, cavity back, thin face… the whole works. They were basically garbage cans, but who was I to question the fitter, right?
So I get to Augusta National with a bag full of shovels, and I struggled a bit on the front nine and made the turn in a few under par. The par 5s are basically par 4s, and the par 4s are basically par-3.5's, so nothing special. I just wasn't catching the new irons flush, and didn't have the precision I had with my forged blades.
Nos. 10 and 11 aren't nearly as difficult as the pros claim, so I cruise through those with easy pars. But then I get to the 12th.
The pin was all the way on the right, similar to where it is on Sunday for the Masters. The hole was playing 154 yards and the wind was swirling. I decided to try and take the wind out of play, and went with a low-slinging draw with my 9 iron. It's a shot I'd hit a million times with my forged blades, but the ball floated out to the right and never drew back to the pin.
I knew immediately it was the club's fault. The forgiveness of the irons kept the ball from drawing back to the pin.
I went onto birdie 5 of the last 6 holes (I missed 3-foot eagle putts on Nos. 13 and 15 because I was flustered), and would have had the course record (which is only 63) if it wasn't for my irons.
But I learned my lesson. That was the last day I ever played an iron with even an ounce of "technology" in it. In fact, after the round I took a NetJets home to get my forged blade irons, and played the course again the next day. I couldn't get it going with the putter and shot 66… but I made a hole-in-one on No. 12.
They say there's only been three holes-in-one on that hole, but there's actually been four. When I told the committee at Augusta National I made a hole-in-one there with a low-squeezer 9 iron, they didn't believe me, and no one was there to attest. They no longer allow me on the premises because of the dispute, but if you jump into the pond in front of the green, you'll find a set of game-improvement irons.
And that's where Jordan Spieth's irons should be, too. If he wants to win any more majors, he needs to ditch those irons with all that forgiveness and switch to blades. It's no wonder he hit the worst tee shot I've ever seen there, he had zero ball control.
Please email (longballswanson@gmail.com) or tweet me (@longballswan1) with questions you'd like me to answer for a new segment called "Yo, Swanson!" I'll answer anything you want since I know pretty much everything about everything golf-related, and I can help you avoid you're own major meltdown.
Longball Swanson, out.
Your Reaction?
LIKE

268

LEGIT

26

WOW

22

LOL

131

IDHT

5

FLOP

55

OB

61

SHANK

701
On Spec: Talking Kirkland wedge, LPGA Tour, and teased irons from TaylorMade & Mizuno
In this episode of On Spec, host Ryan talks about the recently discovered Kirkland Signature wedges on the USGA Conforming list, as well as what recently spotted TaylorMade and Mizuno irons may have in store
Also with the LPGA Tour back in action, Ryan also discussed why it is a good idea to check out how LPGA players gap their bags compared to players on the PGA Tour.
Check out the full podcast on SoundCloud below, or click here to listen on iTunes or here to listen on Spotify.
Want more GolfWRX Radio? Check out our other shows (and the full archives for this show) below. 
Your Reaction?
LIKE

1

LEGIT

0

WOW

0

LOL

0

IDHT

0

FLOP

0

OB

0

SHANK

1
How Tiger Woods lost the 2009 PGA Championship
11 years ago, the PGA Championship produced one of the greatest upsets in sporting history.
The all-conquering Tiger Woods arrived at the 2009 PGA Championship as the prohibitive favorite, having won three of his last four events. Woods then backed up that favoritism over the opening two days, picking apart Hazeltine National with extreme precision to build a four-stroke advantage by the halfway point.
It felt like such a formality that here in Ireland, our biggest bookmaker, PaddyPower declared Tiger as the winner and decided to pay out all outright bets on the World Number One after just 36 holes.
It proved to be a big mistake.
Next week will be the 11th anniversary of the monumental upset, and here I'll take a look at the factors behind Woods' unthinkable loss that week to Y.E. Yang.
Tiger's Ultra-Conservative Saturday
On a scoring Saturday, Woods was too content to play it safe. Why not? After all, the ultimate closer had won so many majors by forging a lead, aiming for the middle of the green, two-putting for par and watching his opponents slowly falter one by one.
Only this time was different, and even Tiger with a two-shot lead going into Sunday's final round as much as admitted he was too conservative during round three, saying after his round:
"They gave us a lot of room on a lot of these pins, six and seven even from the side, so you can be fairly aggressive. I just felt that with my lead, I erred on the side of caution most of the time.

"If I did have a good look at it, a good number at it, I took aim right at it. Otherwise I was just dumping the ball on the green and 2-putting."
The incessant safety first, lag putting strategy of Saturday even transformed into a tentativeness at the beginning of Sunday's final round.
On the par-five seventh hole, with Yang in trouble, Woods had 245 yards to the pin for his second with a huge opportunity to make a statement eagle or textbook birdie. He inexplicably layed up, hit a poor wedge and once again lagged for par.
Horrific Sunday Putting
To say Tiger's trusty Scotty Cameron betrayed him during Sunday's final round would be underselling it. Putt after putt just refused to drop when he needed it most.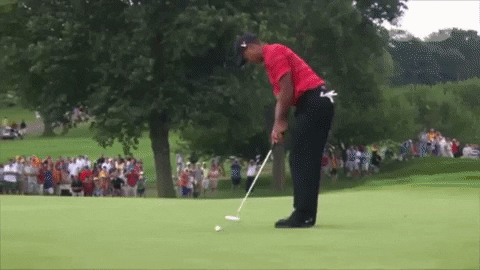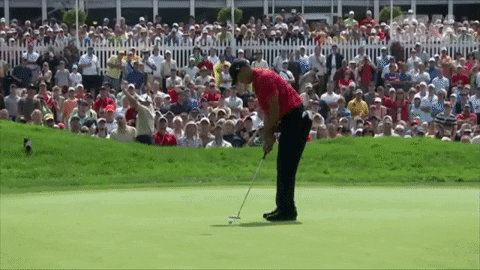 In the end, Woods' seven-foot birdie effort on the 14th hole is the only putt of any note he managed to make on the day.
Tiger played Sunday's final round in 75 strokes. Thirty-three of them were putts.
Yang Stood Up To Tiger
Critics of Woods have long claimed that in his prime, Tiger would crowd his opponents as an intimidation tactic, or rush off the green to the next tee leaving his competitors to putt out while the crowd dispersed.
Regardless, nothing was going to faze Yang that Sunday.
In fact, during the early stretch of the final round, Tiger's indecision and tentativeness led to the pairing being behind the pace of play. It forced on-course officials to remind the two that they needed to speed it up—and of course, they only stressed that Yang needed to do so.
How did the Korean respond? By pointing at Tiger and saying "Not me. Him."
The Pivotal Two-Shot Swing
Many look back on Yang's chip-in eagle to take the lead at the 14th hole on Sunday as the significant turning point of the Championship. However, Yang was always likely to make birdie on the short par-four hole, and the previous hole may well have been the tipping point for the upset.
On the par-three 13th hole, Yang found the bunker, while Woods hit a beauty to eight feet. The two-shot swing in Tiger's favor looked even more likely when Yang failed to get his bunker shot inside Woods' ball.
But when Yang buried his par effort, and Woods let yet another putt slip by, the two remained all square.
Woods' reaction following his putt was telling; his frustration poured out despite him still being in a share of the lead. It was a show of exasperation that may have given the Korean all the encouragement he needed to turn Tiger's 54 hole major lead record of 14-0 into 14-1.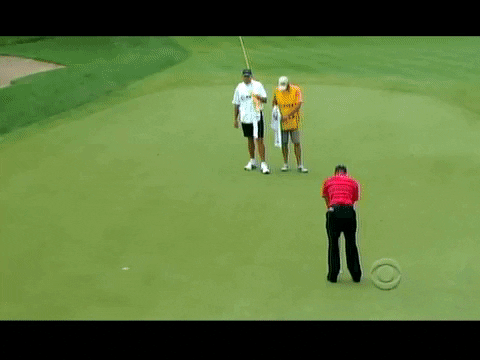 Asked following his round when he felt his control on the tournament beginning to loosen, Woods said:
"But as far as the tournament switching, 13, I stuffed it in there. He made a mistake, hit it in the left bunker. He blasted out. I missed my putt. He made his. And then he chipped in on the next hole.

"So that two-hole stretch turned — if I make my putt, he doesn't chip in, you know, he doesn't make his putt on 13."
The 2009 PGA Championship preceded a ten-year barren spell for Tiger at the majors before he claimed his fifth green jacket at the 2019 Masters. He is still yet to appear in the final twosome on a Sunday at a major since the 2009 PGA.
As for Y.E Yang, the 48-year-old now spends most of his time competing in Japan and his native Korea. He has played in all 10 PGA Championships since his remarkable victory. He has missed the cut seven times.
Your Reaction?
LIKE

24

LEGIT

9

WOW

3

LOL

3

IDHT

1

FLOP

1

OB

0

SHANK

13
The Gear Dive: Brandel Chamblee is back!
In this episode of TGD brought to you by Titleist, Johnny goes in on the distance debate with a friend of the podcast, Brandel Chamblee. Also picks for the WGC, filling a hole in the bag and why the LPGA is the best place to learn how to play.
Check out the full podcast on SoundCloud below, or click here to listen on iTunes or here to listen on Spotify.
Want more GolfWRX Radio? Check out our other shows (and the full archives for this show) below. 
Your Reaction?
LIKE

4

LEGIT

0

WOW

0

LOL

0

IDHT

0

FLOP

0

OB

0

SHANK

7