Is competitive golf for you?
Many recreational golfers often wonder if they should dip their toes into the waters of competitive golf. This article will give you an understanding of what it's like to play under the pressure cooker of a stroke-play event, and offer some ideas on how to pursue an amateur career.
Make no mistake, competitive golf is an entirely different animal from a Sunday morning round with your buddies. There are no gimmies, X's on the scorecard for bad holes, and certainly no breakfast balls. Every shot carries more significance, and in the back of your head you know that one errant swing could cost you any chances of success.
That being said, it can be extremely fun! Starting an amateur career can open up a whole new dimension of golf for you, and give you an intense focus on what you can do to improve your game.
My Experience
I grew up playing high school golf, junior events, and a bit in college. I have lost count at this point, but I have played well over 100 rounds of tournament golf. Competition was always a mixed bag for me. I had the exhilaration of success, and the awful sinking feeling when I blew my chances of making the cut at the most important tournaments. I was never a standout player, but was good enough to stick around.
After college I took about a 10-year hiatus from tournaments and a couple of years ago I decided it was time to get back into it. I'd like to take you through the process I've gone through from finding events, setting goals, and dealing with just how different it is to play golf in a real competitive environment.
Setting Goals
In 2014, my goal was to get my handicap below 1.4 so I could compete in the U.S. Open Qualifier the following year. I had started the year around a 4, so I had some serious work to do. Because my goal was extremely specific, and not completely far-fetched, it helped me focus on what I needed to do to get there.
I took a hard look at my game, and decided that in order to reach that level I needed to put some serious work into both my short game and fixing errant tee shots. More importantly, I needed to play more golf. There is no substitute for improving at this game other than live action.
Sixty rounds later and some serious time spent practicing on the range and in my backyard, I ended the year at a 0.7 handicap. It might not sound like a lot, but moving from a 4 handicap down to almost scratch is a huge jump. There were many bumps along the road, but I kept my focus on the goal and I was happy to get there.
Having the goal of playing in the U.S. Open qualifier is what kept me practicing hard all year, and I strongly believe that it was the main factor for my huge drop in scoring. If you are looking to get into competition I would recommend setting some goals for yourself based on the level of golf you're looking to compete at. Not all tournaments have such a low handicap requirement, so it's best to find one that represents a reasonable level that you can achieve. Don't go thinking you can drop from a 13 handicap down to 2 in six months though!
The Tale of Two Tournaments
Now that I had spent 2014 getting my game in gear, I had registered for the 2015 U.S. Open Qualifier and another amateur event that I found through our local golf association. After a brutal winter that ended late, I only had a few weeks to prepare for the qualifier, which was in May. I continued my work on the range, and tried to play as much as possible leading up to the tournament, and I felt my game was as sharp as it could be.
Since this was my first competitive round in more than 10 years, I tried to be reasonable with my expectations, and I urge you to do the same if you are just starting out. You never really know how your game is going to react in a tournament situation. I told myself that if I broke 80 at the qualifier I would be happy with myself. If I'm being completely honest, all I really wanted to do was not make a fool of myself and get banned from ever trying to qualify again by the USGA!
The day of the tournament I was pretty nervous. I showed up to Bethpage State Park a few hours early, which was probably a huge mistake. After walking around the practice green and the range I could see that the field was a mixture of college players and seasoned pros.
What am I doing here?
My warm-up session was a bit terrifying to be honest with you. After going through my normal routine for about 20 minutes, all of a sudden I started shanking 8-irons. It was like a scene out of Tin Cup. I looked back at my friend who was caddying for me that day, and we both gave each other a look that clearly said, "uh oh."
After watching player after player bomb 300-yard drives off the tee of the intimidating 450-yard opening hole, I was in full freak-out mode. I was about a 9 out of 10 on the nervous meter.
My first tee shot was horrific, a pathetic duck hook that landed in the worst part of the golf course. Luckily a marshal was able to find my ball in about 2 feet of rough. I pitched out, and somehow managed to make a bogey.
Then something funny happened. All of the nerves went away, and my routine took over. I went on to have a great round. Despite some shaky putting and a double on No. 18, I shot a 76 in difficult conditions. I ended up 63rd out of roughly 120 players. I had finished ahead of some great golfers, and felt pretty good about myself.
I had achieved my goal, and all of the preparation before the tournament had paid off.
What Goes Up Must Come Down
Here's the thing about competition, and golf in general really: It has a way of humbling you pretty quickly if you get a little too conceited.
My next tournament was a qualifier for a pretty important local amateur event. I knew that I had to shoot roughly 5- or 6-over in order to make the cut, so there was a very specific number in my head beforehand. I had never played the course, but it was only 6,100 yards, and I assumed that it would be no problem to overpower it and make the cut.
Expectations are a funny thing in golf. At the U.S. Open Qualifier I knew I didn't have a realistic chance of qualifying, and I really had nothing to lose. However, in this tournament I was fully expecting to make the cut.
When you play in a tournament all of your deepest fears as a golfer are exposed. Shots that you aren't completely confident over all of sudden are magnified 100 times more than a normal round. On the third hole I was faced with a 30-yard bunker shot, which is by far and away the shot that terrifies me the most as a golfer. There was water over the back of the green, and all I could think about was not blading it into the drink.
Well that is exactly what I did, and I made a triple bogey.
It was completely embarrassing because my playing partners were all in line to make routine pars, and they had to wait for me to clean up my mess. There was a terrible sinking feeling walking off that green at 4-over par after only three holes. All of my momentum was completely gone, and the rest of the round was a blur of bogeys, self-doubt and embarrassment. I ended up shooting an 85, and was not even close to the cut line.
At the scorer's table I couldn't help but laugh at myself for the way I had felt before the round, and what transgressed on the course. It was only my second tournament back into competitive play, and I realized that I had gotten way ahead of myself. Lesson learned.
It's a Mixed Bag
So what can you learn from my experience? Well, a few things hopefully. If you are interested in pursuing an amateur career in tournament golf you need to be prepared, and I mean that in a few ways.
Planning: Make sure you give yourself plenty of time to select the tournaments you want to play in; it could be as much as a year in advance in some cases.
Preparation: If you are serious about success, your game needs to be ready. Don't expect to show up to a tournament without having played or practiced much and perform well. Set specific goals that are reasonable and measurable.
Expectations: Your mind needs to be ready. Tournament golf is nothing like a normal round. There are no safety nets, and if this is a new experience, you need to expect the unexpected. Anything can happen out there, and it's OK!
What Tournaments Can You Play In?
The first thing you have to do is find actual tournaments to play in. The best place to start is your local golf associations. For example, in the New York Metro area we have the MGA, Long Island Golf Association, and New Jersey Golf Association. They all run a bunch of tournaments for golfers at various levels.
There are also some national resources where you can find events like the Golf Channel Amateur Tour. Amateurgolf.com is also a fantastic resource because it has a searchable database of tournaments.
Each event will have registration guidelines such as age and handicap level. My advice is to pick two or three events on the calendar that you think you want to play in. It's best to start off slowly if competitive golf is new for you.
Competition can be extremely fun and rewarding. It also can be terrifying and embarrassing. Everyone who has ever competed at any level can attest to this. Dealing with the highs and the lows is part of the deal, but there is no substitute for experience. The more tournaments you play, the better you will be at handling the pressure. Start off slowly, and try to have fun with it.
Your Reaction?
LIKE

334

LEGIT

39

WOW

13

LOL

4

IDHT

2

FLOP

5

OB

2

SHANK

10
On Spec: Talking Kirkland wedge, LPGA Tour, and teased irons from TaylorMade & Mizuno
In this episode of On Spec, host Ryan talks about the recently discovered Kirkland Signature wedges on the USGA Conforming list, as well as what recently spotted TaylorMade and Mizuno irons may have in store
Also with the LPGA Tour back in action, Ryan also discussed why it is a good idea to check out how LPGA players gap their bags compared to players on the PGA Tour.
Check out the full podcast on SoundCloud below, or click here to listen on iTunes or here to listen on Spotify.
Want more GolfWRX Radio? Check out our other shows (and the full archives for this show) below. 
Your Reaction?
LIKE

1

LEGIT

0

WOW

0

LOL

0

IDHT

0

FLOP

0

OB

0

SHANK

2
How Tiger Woods lost the 2009 PGA Championship
11 years ago, the PGA Championship produced one of the greatest upsets in sporting history.
The all-conquering Tiger Woods arrived at the 2009 PGA Championship as the prohibitive favorite, having won three of his last four events. Woods then backed up that favoritism over the opening two days, picking apart Hazeltine National with extreme precision to build a four-stroke advantage by the halfway point.
It felt like such a formality that here in Ireland, our biggest bookmaker, PaddyPower declared Tiger as the winner and decided to pay out all outright bets on the World Number One after just 36 holes.
It proved to be a big mistake.
Next week will be the 11th anniversary of the monumental upset, and here I'll take a look at the factors behind Woods' unthinkable loss that week to Y.E. Yang.
Tiger's Ultra-Conservative Saturday
On a scoring Saturday, Woods was too content to play it safe. Why not? After all, the ultimate closer had won so many majors by forging a lead, aiming for the middle of the green, two-putting for par and watching his opponents slowly falter one by one.
Only this time was different, and even Tiger with a two-shot lead going into Sunday's final round as much as admitted he was too conservative during round three, saying after his round:
"They gave us a lot of room on a lot of these pins, six and seven even from the side, so you can be fairly aggressive. I just felt that with my lead, I erred on the side of caution most of the time.

"If I did have a good look at it, a good number at it, I took aim right at it. Otherwise I was just dumping the ball on the green and 2-putting."
The incessant safety first, lag putting strategy of Saturday even transformed into a tentativeness at the beginning of Sunday's final round.
On the par-five seventh hole, with Yang in trouble, Woods had 245 yards to the pin for his second with a huge opportunity to make a statement eagle or textbook birdie. He inexplicably layed up, hit a poor wedge and once again lagged for par.
Horrific Sunday Putting
To say Tiger's trusty Scotty Cameron betrayed him during Sunday's final round would be underselling it. Putt after putt just refused to drop when he needed it most.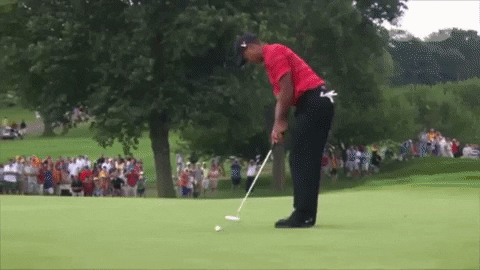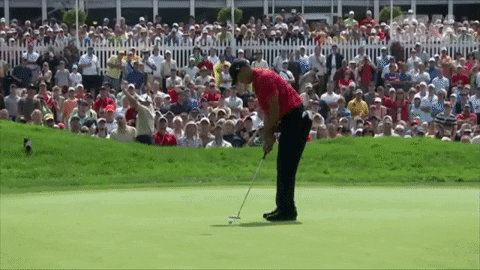 In the end, Woods' seven-foot birdie effort on the 14th hole is the only putt of any note he managed to make on the day.
Tiger played Sunday's final round in 75 strokes. Thirty-three of them were putts.
Yang Stood Up To Tiger
Critics of Woods have long claimed that in his prime, Tiger would crowd his opponents as an intimidation tactic, or rush off the green to the next tee leaving his competitors to putt out while the crowd dispersed.
Regardless, nothing was going to faze Yang that Sunday.
In fact, during the early stretch of the final round, Tiger's indecision and tentativeness led to the pairing being behind the pace of play. It forced on-course officials to remind the two that they needed to speed it up—and of course, they only stressed that Yang needed to do so.
How did the Korean respond? By pointing at Tiger and saying "Not me. Him."
The Pivotal Two-Shot Swing
Many look back on Yang's chip-in eagle to take the lead at the 14th hole on Sunday as the significant turning point of the Championship. However, Yang was always likely to make birdie on the short par-four hole, and the previous hole may well have been the tipping point for the upset.
On the par-three 13th hole, Yang found the bunker, while Woods hit a beauty to eight feet. The two-shot swing in Tiger's favor looked even more likely when Yang failed to get his bunker shot inside Woods' ball.
But when Yang buried his par effort, and Woods let yet another putt slip by, the two remained all square.
Woods' reaction following his putt was telling; his frustration poured out despite him still being in a share of the lead. It was a show of exasperation that may have given the Korean all the encouragement he needed to turn Tiger's 54 hole major lead record of 14-0 into 14-1.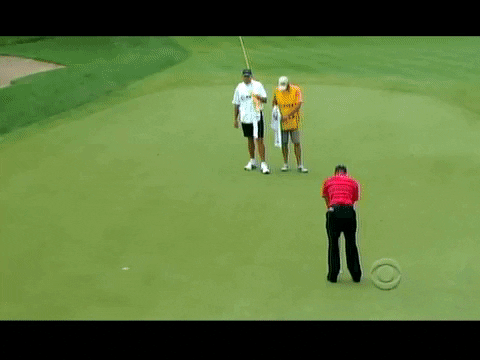 Asked following his round when he felt his control on the tournament beginning to loosen, Woods said:
"But as far as the tournament switching, 13, I stuffed it in there. He made a mistake, hit it in the left bunker. He blasted out. I missed my putt. He made his. And then he chipped in on the next hole.

"So that two-hole stretch turned — if I make my putt, he doesn't chip in, you know, he doesn't make his putt on 13."
The 2009 PGA Championship preceded a ten-year barren spell for Tiger at the majors before he claimed his fifth green jacket at the 2019 Masters. He is still yet to appear in the final twosome on a Sunday at a major since the 2009 PGA.
As for Y.E Yang, the 48-year-old now spends most of his time competing in Japan and his native Korea. He has played in all 10 PGA Championships since his remarkable victory. He has missed the cut seven times.
Your Reaction?
LIKE

24

LEGIT

9

WOW

3

LOL

3

IDHT

1

FLOP

1

OB

0

SHANK

13
The Gear Dive: Brandel Chamblee is back!
In this episode of TGD brought to you by Titleist, Johnny goes in on the distance debate with a friend of the podcast, Brandel Chamblee. Also picks for the WGC, filling a hole in the bag and why the LPGA is the best place to learn how to play.
Check out the full podcast on SoundCloud below, or click here to listen on iTunes or here to listen on Spotify.
Want more GolfWRX Radio? Check out our other shows (and the full archives for this show) below. 
Your Reaction?
LIKE

4

LEGIT

0

WOW

0

LOL

0

IDHT

0

FLOP

0

OB

0

SHANK

7