Statistics on how short hitters can conquer Par-5's
One of the least surprising parts of analytics in golf is that there is a strong statistical correlation on the PGA Tour between Driving Distance and Par-5 performance. Driving Distance and Par-4 performance does not have nearly the same correlation, which makes it obvious how important power is to performing on the Par-5's.
I wanted to look at the exceptions to the rule, however: short hitters who performed well on Par-5's. Conversely, I wanted to examine long hitters who did not perform well on Par-5's. Then I wanted to see what these groups of players had in common with their game in hopes of explaining why they overachieved or underachieved on Par-5's.
I decided to take the top-15 Overachievers (nearly the top 10 percent) and the top-15 Underachievers and examine their metrics. 
First, I wanted to see how these groups of golfers performed on approach shots, not only the range from which they are likely to hit a fairway wood (225-275 yards), but also on short approach shots where they end up if they decide to lay up on Par-5's.
What's interesting is that the Overachievers have a much better ranking in each of the categories except one: shots from 250-275 yards. That area is where the 3-wood is almost exclusively used by Tour players, and yet the Overachievers were significantly worse performers than the Underachievers.
This is one of the key points in the difference between the Overachievers and the Underachievers. Obviously, performing better from 75-150 yards is helpful to performing better on the Par-5's. But despite the Overachievers being worse with the 3-wood and better from 75-150 yards than the Underachievers, they were significantly more aggressive on the par-5's.
Par-5 aggressiveness is a proprietary formula that I use to determine how "aggressive" a player is in going for par-5's in two shots based on their percentage of Par-5 "Go For It's," their distance off the tee, their club speed and the percentage of "Go For It's" for the field on the par-5's they have played.
For example, Mark Hubbard ranked 114th in actual Par-5 "Go For It" percentage. But he was 165th in Driving distance, which means he has a less likely chance to go for Par-5's in two shots. Hubbard did it anyway, and therefore was very aggressive on the Par-5's.
The difference in Overachievers being much more aggressive on the Par-5's, despite being inferior 3-wood players and superior from 75-150 yards, indicates that it is far more beneficial to be aggressive than conservative on the Par-5's.
Next, let's look at Short Game shots around the green data for both groups.
Once again, this is not all that revelatory in general, but the details are a bit more informative. The Overachievers had better short games than the Underachievers. However, the data shows that the larger discrepancy is on shots from 20-30 yards. On Par-4's, it is far more important to perform well from 10-20 yards and from less than 10 yards than it is to perform well from 20-30 yards. But on par-5 shots, 20-30 yards is a more important distance range.
Here's how the two groups fared on the greens.
This was a bit more surprising for the most part, as he Overachievers did not putt significantly better than the Underachievers. This indicates that getting the ball close to the green in the first two shots is more important than actual putting performance on the green for Tour players.
Lastly, I wanted to compare the two groups with some driving metrics.
Tee Shot Aggressiveness is a proprietary measurement I use to determine the amount of times a player is laying-up off the tee. Players like Mark Hubbard and Roberto Castro rarely lay up off the tee, while Martin Laird and Lee Westwood were frequently laying up off the tee.
While there is a huge discrepancy in the Tee Shot Aggressiveness rankings for the Overachievers versus the Underachievers and the Overachievers were more effective off the tee in general, the more telling metrics are the ones that indicate a player's accuracy and precision off the tee.
Despite the Overachievers being much more aggressive off the tee, they were still far more accurate (hit fairway percentage) and much more precise off the tee (Distance to Edge of Fairway, Hit Fairway Bunker Percentage and Missed Fairway – Other Percentage). This goes back to one of the major strategic keys that I stress to all golfers:
If you're likely to have a long club in your hand (5-iron or longer) on your 2nd shot, it is best to focus on making good contact and finding the fairway rather than swinging for the fences in hopes of gaining an extra 20-30 yards off the tee.
That includes Par-5's and Par-4's. For Tour players, the variance in scores on shots from the fairway versus the rough rise dramatically once the second shot is from 175 yards or more. For amateurs who play shorter courses, I recommend looking at it from the club you are using. The general rule of thumb is a 5 iron or longer. I still recommend hitting driver off the tee. As the Overachievers show, they are not laying up off the tee that often. But, it is better to take your "stock swing" and focus on making good contact and finding the fairway than to swing harder in hopes of gaining more yards at the risk of finding the rough.
To summarize, here's what amateurs can learn from the pros. 
Hit driver off the tee, but focus on good contact and finding the fairway instead of swinging harder in hopes of hitting it farther.
Three wood performance is not as critical to par-5 performance as one may think. However, it's still important to try and get the ball as close as you can to the hole when feasible rather than playing for your "money yardage."
Short Game performance is fairly important, but it's more about long-range short game shots (20-30 yards) than shorter range Short Game shots (<15 yards).
Par-5 performance is more about the first two shots than it is about performance with the putter.
Your Reaction?
LIKE

150

LEGIT

16

WOW

8

LOL

1

IDHT

2

FLOP

3

OB

2

SHANK

31
On Spec: Talking Kirkland wedge, LPGA Tour, and teased irons from TaylorMade & Mizuno
In this episode of On Spec, host Ryan talks about the recently discovered Kirkland Signature wedges on the USGA Conforming list, as well as what recently spotted TaylorMade and Mizuno irons may have in store
Also with the LPGA Tour back in action, Ryan also discussed why it is a good idea to check out how LPGA players gap their bags compared to players on the PGA Tour.
Check out the full podcast on SoundCloud below, or click here to listen on iTunes or here to listen on Spotify.
Want more GolfWRX Radio? Check out our other shows (and the full archives for this show) below. 
Your Reaction?
LIKE

1

LEGIT

0

WOW

0

LOL

0

IDHT

0

FLOP

0

OB

0

SHANK

1
How Tiger Woods lost the 2009 PGA Championship
11 years ago, the PGA Championship produced one of the greatest upsets in sporting history.
The all-conquering Tiger Woods arrived at the 2009 PGA Championship as the prohibitive favorite, having won three of his last four events. Woods then backed up that favoritism over the opening two days, picking apart Hazeltine National with extreme precision to build a four-stroke advantage by the halfway point.
It felt like such a formality that here in Ireland, our biggest bookmaker, PaddyPower declared Tiger as the winner and decided to pay out all outright bets on the World Number One after just 36 holes.
It proved to be a big mistake.
Next week will be the 11th anniversary of the monumental upset, and here I'll take a look at the factors behind Woods' unthinkable loss that week to Y.E. Yang.
Tiger's Ultra-Conservative Saturday
On a scoring Saturday, Woods was too content to play it safe. Why not? After all, the ultimate closer had won so many majors by forging a lead, aiming for the middle of the green, two-putting for par and watching his opponents slowly falter one by one.
Only this time was different, and even Tiger with a two-shot lead going into Sunday's final round as much as admitted he was too conservative during round three, saying after his round:
"They gave us a lot of room on a lot of these pins, six and seven even from the side, so you can be fairly aggressive. I just felt that with my lead, I erred on the side of caution most of the time.

"If I did have a good look at it, a good number at it, I took aim right at it. Otherwise I was just dumping the ball on the green and 2-putting."
The incessant safety first, lag putting strategy of Saturday even transformed into a tentativeness at the beginning of Sunday's final round.
On the par-five seventh hole, with Yang in trouble, Woods had 245 yards to the pin for his second with a huge opportunity to make a statement eagle or textbook birdie. He inexplicably layed up, hit a poor wedge and once again lagged for par.
Horrific Sunday Putting
To say Tiger's trusty Scotty Cameron betrayed him during Sunday's final round would be underselling it. Putt after putt just refused to drop when he needed it most.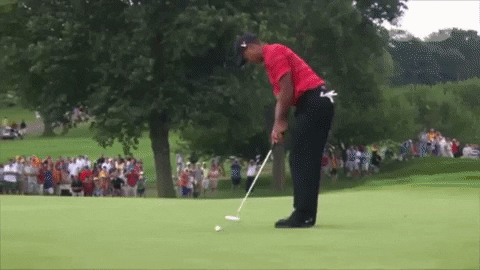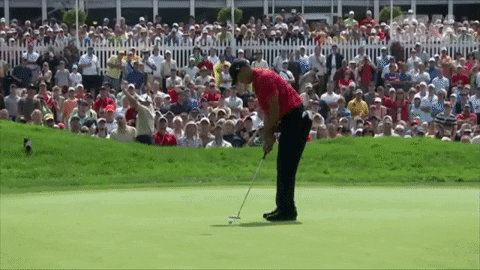 In the end, Woods' seven-foot birdie effort on the 14th hole is the only putt of any note he managed to make on the day.
Tiger played Sunday's final round in 75 strokes. Thirty-three of them were putts.
Yang Stood Up To Tiger
Critics of Woods have long claimed that in his prime, Tiger would crowd his opponents as an intimidation tactic, or rush off the green to the next tee leaving his competitors to putt out while the crowd dispersed.
Regardless, nothing was going to faze Yang that Sunday.
In fact, during the early stretch of the final round, Tiger's indecision and tentativeness led to the pairing being behind the pace of play. It forced on-course officials to remind the two that they needed to speed it up—and of course, they only stressed that Yang needed to do so.
How did the Korean respond? By pointing at Tiger and saying "Not me. Him."
The Pivotal Two-Shot Swing
Many look back on Yang's chip-in eagle to take the lead at the 14th hole on Sunday as the significant turning point of the Championship. However, Yang was always likely to make birdie on the short par-four hole, and the previous hole may well have been the tipping point for the upset.
On the par-three 13th hole, Yang found the bunker, while Woods hit a beauty to eight feet. The two-shot swing in Tiger's favor looked even more likely when Yang failed to get his bunker shot inside Woods' ball.
But when Yang buried his par effort, and Woods let yet another putt slip by, the two remained all square.
Woods' reaction following his putt was telling; his frustration poured out despite him still being in a share of the lead. It was a show of exasperation that may have given the Korean all the encouragement he needed to turn Tiger's 54 hole major lead record of 14-0 into 14-1.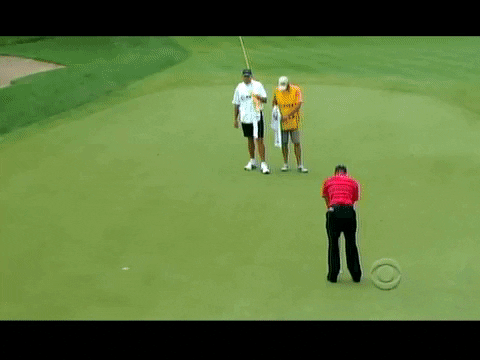 Asked following his round when he felt his control on the tournament beginning to loosen, Woods said:
"But as far as the tournament switching, 13, I stuffed it in there. He made a mistake, hit it in the left bunker. He blasted out. I missed my putt. He made his. And then he chipped in on the next hole.

"So that two-hole stretch turned — if I make my putt, he doesn't chip in, you know, he doesn't make his putt on 13."
The 2009 PGA Championship preceded a ten-year barren spell for Tiger at the majors before he claimed his fifth green jacket at the 2019 Masters. He is still yet to appear in the final twosome on a Sunday at a major since the 2009 PGA.
As for Y.E Yang, the 48-year-old now spends most of his time competing in Japan and his native Korea. He has played in all 10 PGA Championships since his remarkable victory. He has missed the cut seven times.
Your Reaction?
LIKE

24

LEGIT

9

WOW

3

LOL

3

IDHT

1

FLOP

1

OB

0

SHANK

13
The Gear Dive: Brandel Chamblee is back!
In this episode of TGD brought to you by Titleist, Johnny goes in on the distance debate with a friend of the podcast, Brandel Chamblee. Also picks for the WGC, filling a hole in the bag and why the LPGA is the best place to learn how to play.
Check out the full podcast on SoundCloud below, or click here to listen on iTunes or here to listen on Spotify.
Want more GolfWRX Radio? Check out our other shows (and the full archives for this show) below. 
Your Reaction?
LIKE

4

LEGIT

0

WOW

0

LOL

0

IDHT

0

FLOP

0

OB

0

SHANK

7