Best Ball-Strikers (Part 2): Lee Trevino and Tom Watson
I am very fortunate to belong to Preston Trail, a golf club in Dallas noted for having professional and amateur players. Among them is Lee Trevino, and we actually have a bit of history.
I was working at The Haney Ranch as a club fitter in the early 90's when I developed the Tight Lies fairway wood. I also did basic club repair and can confidently say the repair part was not going to be a career move. Some guys are handy, neat and efficient. None of those adjectives apply to me.
Hank had a young teacher by the name of Tony Trevino who would help me when my inefficiency got me behind any normal repair schedule. His name was Tony Lee Trevino, Lee's son. When the Tight Lies was gaining a bit of a reputation at the ranch, unbeknownst to me, Tony shafted one up for his dad.
This led to a phone call one evening.
"Barney, this is Lee Trevino," to which I responded, "Who the hell is this? It's late and I'm tired."  
After he reintroduced himself, it dawned on me that the caller was really Lee Trevino, arguably one of the greatest ball strikers in golf history. He went on to explain that he loved the Tight Lies and was preparing to show it to his sponsor at the time, Spaulding. He gave me his agent's name and phone number so I'd have him available when negotiations started.
My net worth at the time qualified me for food stamps (literally), so suffice to say I eagerly waited for the call from Spaulding. I'm still waiting, a story Lee told the membership of Preston Trail at an evening function. Shall we say it not one of Spaulding's great decisions. 
The idea of approaching a professional golfer for a game has always seemed intrusive to me, but years later at the club, Lee said "anytime" and I jumped at the chance. I had played with Tommy Bolt and Moe Norman. Now, the chance to add another one of the greatest ball strikers to the list was a like the kid in the proverbial candy store.
Related: Best Ball-Strikers (Part 1): Tommy Bolt and Moe Norman
What was it like? How do you explain golf shots executed at a level barely comprehensible? This wasn't Lee Trevino from the PGA Tour; this was Lee Trevino who is "no longer competitive," explaining shots as he prepared to take his backswing.
"This calls for a baby fade … I'm going to draw this one so the ball is rolling towards the pin."
And with every explanation, a shot as described. His drives were from the fairway, as he said, "only about 260" ( I had hit several yards ago). Every shot into the green ended up pin high, unless he wanted to be short or long for a better putt. The old, washed-up guy could only shoot 65-66 and this while giving me a tutorial on shaping the golf ball.
We've had several conversations about the finer points of golf shots and equipment; it's like listening to Elon Musk talk about one of his projects. I pay really, really close attention because he's always on the verge of going over my head.
And by the way, he plays from tees where he can still hit the irons into the greens he used to hit. He thinks 99 percent of us are tripping over our respective egos by playing back tees, trying to fit hybrids between traps. To that I say, amen!
Tom Watson
Last alphabetically, but a man I'm proud to call a friend. Tom was on the Adams staff for many years and during that time when I was CEO we had very little contact unless it was a discussion about a particular club design.
When we first signed him, I said that unless he had a specific request we really wouldn't be seeing much of each other. My analogy was a doctor: If I had a friend who was a doc, I wouldn't be dropping in on an operation to see how he was doing.
That's how I viewed playing the PGA Tour. It was his office (or in his case, his operating room) and using the staff relationship to "drop in" would be intrusive. We each had jobs to do and in a sense were close, but not physically. As a result I cannot recall many actual times on the course with Tom, but three memories come to mind.
When I first talked to him about being on staff, the plan was for me to meet him in Kansas City with our new irons for him to try — basically to see if he liked our stuff. He had already used and liked the woods.  
I flew from Dallas and met him on the range at Wolf Creek. Neither Tom nor I are much for small talk. He explained to me that he was going to hit some shots with his regular irons and the same with ours. He proceeded to open a shag bag, and using 3-to-4 different clubs he hit about 25 of the most beautiful iron shots you could imagine.
I was ready to go back to Dallas on the spot. He then took our irons and repeated the process, looked to me said, " I could play with these," whereupon it was over. I went back to Dallas, his agent called and we established him as our spokesman — a relationship that exists to this day. My total range exposure time was maybe 45 min.
Every year, Tom would invite his sponsors to play with him at The Greenbrier, and the first two years I went before handing it off to other employees. We were teams and he joined us for three-hole stretches. What do I remember? Leaning!
Every time he hit a shot, it was straight at the flag and I had to lean to see it land. Subsequently, we have evolved into an annual fishing trip, something we both enjoy and he doesn't have to suffer my golf. I am not including anything on his thoughts on the golf swing. He has out an instructional package and I know he devoted a serious amount of time and effort for it to be complete.
Last year, Tom came to Dallas and I was very proud to be included in his game with George Bush (43) and a dinner afterward.
I was telling my brother about the event, and he reminded me that when I came home from college I used to hire out to muck stalls at local dairy farms. His comment: "Boy have you come a long way." I have, and the memories and the great people are one thing the game of golf has in abundance.
If it's a bit hokey; I don't care. It's the core of golf and why I fight to stop the loss of players.
Your Reaction?
LIKE

211

LEGIT

2

WOW

13

LOL

5

IDHT

1

FLOP

16

OB

4

SHANK

10
The Gear Dive: TrackMan's Lance Vinson Part 2
In this episode of the Gear Dive, Johnny goes even deeper into the TrackMan data with Tour Rep Lance Vinson. It's a ridiculous nerd out covering what the future holds, who is the most efficient player on tour, who hits it the best and a million other things.
Check out the full podcast on SoundCloud below, or click here to listen on iTunes or here to listen on Spotify.
Want more GolfWRX Radio? Check out our other shows (and the full archives for this show) below. 
Your Reaction?
LIKE

0

LEGIT

0

WOW

0

LOL

0

IDHT

2

FLOP

0

OB

0

SHANK

0
Mondays Off: How is the new PGA schedule looking? Gross golf bag cleaning story!
The new PGA schedule is out and how will so much major golf look in the fall. What golf gear would you buy with your stimulus check if you could blow it all on golf? Knudson has a gross story about cleaning out a golf bag.
Check out the full podcast on SoundCloud below, or click here to listen on iTunes or here to listen on Spotify.
Want more GolfWRX Radio? Check out our other shows (and the full archives for this show) below. 
Your Reaction?
LIKE

0

LEGIT

0

WOW

0

LOL

0

IDHT

0

FLOP

0

OB

0

SHANK

1
Tiger at the Masters: The 3 that got away
This time last year, Tiger Woods earned his fifth green jacket at the 2019 Masters, breaking a 14-year drought at Augusta National and completing a storybook career comeback (see Tiger Woods' 2019 Masters WITB here).
Between his 2005 and 2019 victories, Woods gave himself several chances to reclaim the green jacket, but for one reason or another, the championship continuously eluded the 15-time major winner.
Looking back on that drought, three years in particular stick out in my mind where Woods (being the ruthless closer that he is) could, and maybe should, have capitalized on massive opportunities.
2007 Masters
A unique tournament broke out at the 2007 Masters with chilly and windy conditions meaning we would see an over-par score winning the event for the first time in a generation.
Unusually however was the fact that Tiger Woods had got himself into a fantastic position heading into the final day's play—one stroke back of the lead and in the final group.
By the first hole on Sunday, Woods had a share of the lead. A couple of holes later, and he was the sole leader. But instead of the game's greatest ever closer doing what he does best, we saw the first small chink in Tiger's major armor.
Unable to keep up with the improved scoring on Sunday, Woods finished the championship two strokes behind Zach Johnson. It was the first time Woods lost a major in which he held the lead at some point in the final round.
Summing up after the round why things hadn't turned out the way the entire golf world expected, Woods said
"Looking back over the week I basically blew this tournament with two rounds where I had bogey, bogey finishes. That's 4-over in two holes. The last two holes, you just can't afford to do that and win major championships."
2011 Masters
In one of the most exciting final rounds in Masters history, an electric front-nine charge from Woods coupled with a Rory McIlroy collapse saw the then 35-year-old tied for the lead heading into the back nine.
After back-to-back pars on the challenging 10th and 11th holes, Woods found the green on the 12th before it all slipped away. A disastrous three-putt was followed by a deflating five on the par-5 13th and an agonizing near-miss for birdie on 14.
In typical defiant fashion, Woods then flushed a long iron on the par-5 15th to give him five feet for eagle and what would have been the outright lead. But he couldn't find the cup.
Directly following his round, a visibly miffed Woods said
"I should have shot an easy 3- or 4-under on the back nine and I only posted even. But I'm right there in the thick of it and a bunch of guys have a chance. We'll see what happens."
What happened was eventual champion Charl Schwartzel did what Woods said he should have done—shooting 4 under on the back to win his first major.
2013 Masters
Luck, or lack of, is a contentious topic when it comes to sports fans, but at the 2013 Masters, Woods' shocking fate played out as if those on Mount Olympus were orchestrating the tournament.
Woods entered the 2013 Masters as the World Number One, brimming with confidence having won three out of his first five tournaments to start the year.
By Friday afternoon, Woods had cruised into a share of the lead, before crisply striking a wedge on the par-5 15th as he hunted for another birdie.
In a cruel twist of fate, Woods' ball struck the pin and ricocheted back into the water. "Royally cheated!" shouted on-course announcer David Feherty. Nobody could argue otherwise.
A subsequent "bad drop" turned a probable birdie into a triple-bogey placing Woods behind the proverbial 8-ball for the rest of the tournament. The game's ultimate closer should have been in the lead with two rounds to play on a front-runner's paradise of a course; instead, he was in chase-mode. (From 1991-2012, 19 of the 22 winners came from the final group).
Woods tried to rally over the weekend, but if he didn't think the 2013 Masters was ill-fated for himself by Friday evening, then he would have been excused to do so on the eighth hole on Saturday.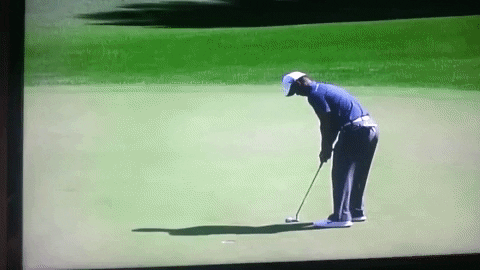 Had Woods' golf ball missed the pin at 15 on that hot and humid Spring afternoon in 2013, then he not only wins, but he likely wins going away.
Your Reaction?
LIKE

34

LEGIT

1

WOW

2

LOL

0

IDHT

0

FLOP

1

OB

0

SHANK

1