Be The Ball: Filmmaker exploring 'the zone,' mental side of golf
Documentary filmmaker Erik Anders Lang is turning his attention to golf, and he's working on one heck of a project.
Be The Ball,  Lang's in-progress film, explores the mental side of the game through interviews with luminary figures in golf and the aid of a device known as the Focus Band. Lang's film will culminate with a grand experiment: a meditation retreat for both pro and amateur golfers to aid and evaluate their abilities to get in the zone.
Lang has made documentaries for Serato, Louis Vuitton, The Guggenheim, Honda, MTV and TED, in addition to the feature-length documentary The Story of Braeden Reed. He already has hundreds of hours of interviews with enthusiasts, professionals and industry figures from Bill Murray to Rory McIlroy to the author of Golf in the Kingdom.
He's gathering footage at Tiger Woods' Hero World Challenge this week and has also set up an IndiGoGo to cover some of the production funding that you can check out here.
I had the chance to catch up with the filmmaker about his background in the game and the film.
[youtube id="SKRGPPuvA7A" width="620″ height="360″]
On his background in golf
"I grew up in an avid golf family, but I didn't like it. I had complete contempt prior to investigation. I finally tried it like five years ago. I tried it and I fell in love immediately. It was a mix of everything that I really loved: inner challenge, group challenge, sport, nature.
Once I started playing, the next day I went and bought clubs…started reading every book, watching every movie. The movie idea came about pretty shortly after that."
On the idea for the film
"The idea…A documentary that takes pro golfers on a meditation retreat to see how the process of focusing your mind can affect your golf score.
"I read a book early on called Zen Golf. I called the author. He said, "Do you know how to meditate? You should come up, I'll teach you. I had a kind of spiritual experience. Years went by and he became my kind of mentor. We would play golf together and meditate together. That was kind of the first brick."
"Then I tried a thing called the Focus Band, which solidified how the movie will work. The Focus Band is a thing you wear on your head and it tells you whether or not you're in the zone. I was totally skeptical. It worked. It knew when I was properly meditating.
"I couldn't get it to say I was in the zone while I was there staring at a golf ball. Whenever I went back to the golf ball it would fall out. My relationship to the golf ball was anything but present. It was future and past.
"It made me say, 'Wow.'
"On the PGA Tour, any player I go up to and say, 'Hey is golf a spiritual game?' They'll pretty much all say, 'Yes.'
"So, I saw there was this golden story lying under the veneer of every PGA Tour event. I thought: I've already got my theories about golf, and now I have a way to literally measure it."
On his progress so far
"I started bringing my camera with me about four years ago. I interviewed a lot of the greats slowly but surely.
"I've done a lot of testing with the guys and the Focus Band to make sure the experiment is going to…work on camera. For each person, putting this Focus Band on is like seeing themselves in the mirror for the first time. I thought: This is awesome; we've got a golden brick here.
"We've attracted some great producers to the film [the producer of Rudy and Swingers, for example]. We have financing partners when this crowdfunding campaign is complete. We've done a lot, but there's a lot further to go. A lot of what we're waiting to shoot is this experiment with these great players…that's the story.
"The campaign will be done January 12th. Then, we've got to wait just a little bit for the other funding sources to come in. The IndieGoGo campaign is a way for people to get involved now and learn about the story and get really cool rewards that are individual to the film.
"Pre-production: We'll shoot over the summer, then we're editing for about six months. We'll have the theatrical release around the Summer Olympics in Rio in 2016."
On what golf is
"All this brought me to this conclusion: Golf is an excuse to do anything you want. Maybe it's stuff that you wouldn't do otherwise…like meditate. If you think about the experience of going to play a round of golf, it's so interesting and bizarre on so many levels.
"Pete Dye's whole thing is: 'You think you're going to get better next Saturday. But next Saturday doesn't come.
"You're showing up every time and hoping that it's going to be that magical round. It pretty much never is. Every round of golf is incredibly heartbreaking."
On his hopes for the film
"This is an entertaining thing, but really it's aimed toward change and helping people's golf games and really helping people's lives. I need to make this information as palatable and as interesting as possible to get people to watch it.
"I would like to see this film have an effect on so many things. I would like to see the non-golf audience look at golf and say, 'That looks cool. I'd really like to try that.'
"I would like it to make it into the wide view of people watching movies. That's why it's called Be The Ball. It goes beyond just the golf ball.
"I would love golfers to say, 'Wait a minute, have I been doing this all wrong? Is getting upset after every shot that doesn't go in the hole the right way to do it?'
"And then I would like the Focus Band to make it into all facets of life…they're talking about getting it into kid's video games, and I would also like to see a large shift in how we think about thinking.
"It's cool to see people so excited about this idea, because it's so important to me."
To follow Erik's progress, check out the Be The Ball IndieGoGo, Facebook, and Twitter pages. 
Your Reaction?
LIKE

1

LEGIT

0

WOW

1

LOL

0

IDHT

0

FLOP

0

OB

0

SHANK

1
On Spec: Talking Kirkland wedge, LPGA Tour, and teased irons from TaylorMade & Mizuno
In this episode of On Spec, host Ryan talks about the recently discovered Kirkland Signature wedges on the USGA Conforming list, as well as what recently spotted TaylorMade and Mizuno irons may have in store
Also with the LPGA Tour back in action, Ryan also discussed why it is a good idea to check out how LPGA players gap their bags compared to players on the PGA Tour.
Check out the full podcast on SoundCloud below, or click here to listen on iTunes or here to listen on Spotify.
Want more GolfWRX Radio? Check out our other shows (and the full archives for this show) below. 
Your Reaction?
LIKE

1

LEGIT

0

WOW

0

LOL

0

IDHT

0

FLOP

0

OB

0

SHANK

1
How Tiger Woods lost the 2009 PGA Championship
11 years ago, the PGA Championship produced one of the greatest upsets in sporting history.
The all-conquering Tiger Woods arrived at the 2009 PGA Championship as the prohibitive favorite, having won three of his last four events. Woods then backed up that favoritism over the opening two days, picking apart Hazeltine National with extreme precision to build a four-stroke advantage by the halfway point.
It felt like such a formality that here in Ireland, our biggest bookmaker, PaddyPower declared Tiger as the winner and decided to pay out all outright bets on the World Number One after just 36 holes.
It proved to be a big mistake.
Next week will be the 11th anniversary of the monumental upset, and here I'll take a look at the factors behind Woods' unthinkable loss that week to Y.E. Yang.
Tiger's Ultra-Conservative Saturday
On a scoring Saturday, Woods was too content to play it safe. Why not? After all, the ultimate closer had won so many majors by forging a lead, aiming for the middle of the green, two-putting for par and watching his opponents slowly falter one by one.
Only this time was different, and even Tiger with a two-shot lead going into Sunday's final round as much as admitted he was too conservative during round three, saying after his round:
"They gave us a lot of room on a lot of these pins, six and seven even from the side, so you can be fairly aggressive. I just felt that with my lead, I erred on the side of caution most of the time.

"If I did have a good look at it, a good number at it, I took aim right at it. Otherwise I was just dumping the ball on the green and 2-putting."
The incessant safety first, lag putting strategy of Saturday even transformed into a tentativeness at the beginning of Sunday's final round.
On the par-five seventh hole, with Yang in trouble, Woods had 245 yards to the pin for his second with a huge opportunity to make a statement eagle or textbook birdie. He inexplicably layed up, hit a poor wedge and once again lagged for par.
Horrific Sunday Putting
To say Tiger's trusty Scotty Cameron betrayed him during Sunday's final round would be underselling it. Putt after putt just refused to drop when he needed it most.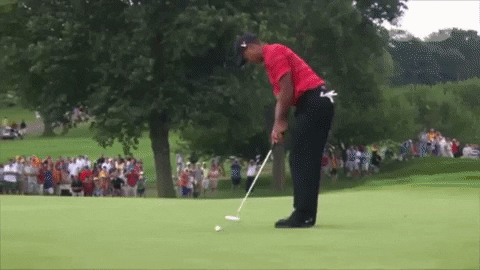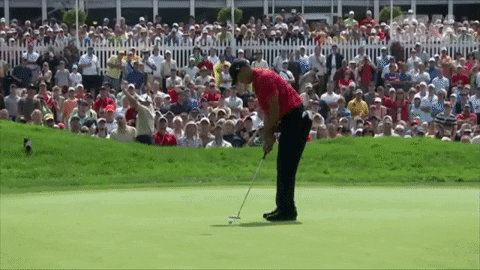 In the end, Woods' seven-foot birdie effort on the 14th hole is the only putt of any note he managed to make on the day.
Tiger played Sunday's final round in 75 strokes. Thirty-three of them were putts.
Yang Stood Up To Tiger
Critics of Woods have long claimed that in his prime, Tiger would crowd his opponents as an intimidation tactic, or rush off the green to the next tee leaving his competitors to putt out while the crowd dispersed.
Regardless, nothing was going to faze Yang that Sunday.
In fact, during the early stretch of the final round, Tiger's indecision and tentativeness led to the pairing being behind the pace of play. It forced on-course officials to remind the two that they needed to speed it up—and of course, they only stressed that Yang needed to do so.
How did the Korean respond? By pointing at Tiger and saying "Not me. Him."
The Pivotal Two-Shot Swing
Many look back on Yang's chip-in eagle to take the lead at the 14th hole on Sunday as the significant turning point of the Championship. However, Yang was always likely to make birdie on the short par-four hole, and the previous hole may well have been the tipping point for the upset.
On the par-three 13th hole, Yang found the bunker, while Woods hit a beauty to eight feet. The two-shot swing in Tiger's favor looked even more likely when Yang failed to get his bunker shot inside Woods' ball.
But when Yang buried his par effort, and Woods let yet another putt slip by, the two remained all square.
Woods' reaction following his putt was telling; his frustration poured out despite him still being in a share of the lead. It was a show of exasperation that may have given the Korean all the encouragement he needed to turn Tiger's 54 hole major lead record of 14-0 into 14-1.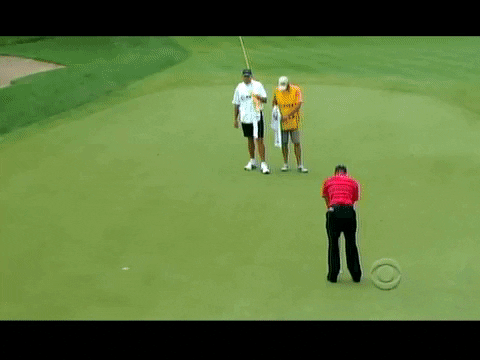 Asked following his round when he felt his control on the tournament beginning to loosen, Woods said:
"But as far as the tournament switching, 13, I stuffed it in there. He made a mistake, hit it in the left bunker. He blasted out. I missed my putt. He made his. And then he chipped in on the next hole.

"So that two-hole stretch turned — if I make my putt, he doesn't chip in, you know, he doesn't make his putt on 13."
The 2009 PGA Championship preceded a ten-year barren spell for Tiger at the majors before he claimed his fifth green jacket at the 2019 Masters. He is still yet to appear in the final twosome on a Sunday at a major since the 2009 PGA.
As for Y.E Yang, the 48-year-old now spends most of his time competing in Japan and his native Korea. He has played in all 10 PGA Championships since his remarkable victory. He has missed the cut seven times.
Your Reaction?
LIKE

24

LEGIT

9

WOW

3

LOL

3

IDHT

1

FLOP

1

OB

0

SHANK

13
The Gear Dive: Brandel Chamblee is back!
In this episode of TGD brought to you by Titleist, Johnny goes in on the distance debate with a friend of the podcast, Brandel Chamblee. Also picks for the WGC, filling a hole in the bag and why the LPGA is the best place to learn how to play.
Check out the full podcast on SoundCloud below, or click here to listen on iTunes or here to listen on Spotify.
Want more GolfWRX Radio? Check out our other shows (and the full archives for this show) below. 
Your Reaction?
LIKE

4

LEGIT

0

WOW

0

LOL

0

IDHT

0

FLOP

0

OB

0

SHANK

7