Timeless tips to beat the cold: The GolfWRX Guide to Winter Golf
This story is part of our new "GolfWRX Guides," a how-to series created by our Featured Writers and Contributors — passionate golfers and golf professionals in search of answers to golf's most-asked questions.
—
It's been said often, and rarely disputed, that a golfer will play through anything. Not even a downpour of biblical proportions immortalized in the movie Caddyshack can keep Bushwood's resident bishop from squeezing in a quick nine.
So if you're one of those golfers who is willing to venture outdoors when it's cold and windy, on days that require running the defroster on high, here's a GolfWRX Guide for extending golf into the winter season and enjoying it.
Before You Hit The Course
It's safe to say that many golfers suffer from complacency. We have all found ourselves at times grabbing any old polo shirt out of the closet, flinging our golf bag into the trunk of our car, sprinting to the first tee, not bothering to hit a practice bucket. And in the summer — we can get away with it.
Winter, however, is harsh and uncompromising. But it doesn't have to beat you up; all it takes is a little preparation, so let's get started.
Golf isn't always thought of as a physically demanding game, but it does take some flexibility and coordination, especially when it's cold out. If you're one of those weekend warriors who thinks a sit up is something you do when you're relaxing on the couch, a little exercise can keep your game from going into hibernation. A good way of loosening up before your tee time is with a 20 to 30 minute warmup at home. Titlelist Performance Institute has developed a routine consisting of a series of flexion and extension exercises that hit all the major muscle groups involved with playing golf. The routine doesn't require any special equipment and it's easy enough to do, even for a person leading a sedentary lifestyle.*
Once your body is warmed up, it's time to prep your golf bag. Make sure it's stocked with extra tees, balls and towels. If this sounds like overkill — believe me — it's not. Tees tend to snap more easily in the cold, balls always seem to find a pile of dead leaves to hide in and you're always toweling off something — whether it's a sand wedge caked with dirt or your nose dripping with snot. Don't make a rookie mistake and use a single towel for both.
I also recommend bringing a golf bag hood to cover your clubs and an umbrella in case of precipitation. This is especially true if you happen to live in a traditionally wet corridor of the world such as the Pacific Northwest (West of the Cascades) where the average monthly rainfall is at its highest from November through March.
Lastly, don't forget about snacks and water. You should be able to pick up these items at the course in case you forget, but never rely on a muni to maintain a half-way house in the middle of winter or expect to see beverage cart girls zig-zagging between fairways like they do in-season.
Of course any discussion about playing in cold weather has to mention apparel. The keys to dressing warm and staying dry? Layers and fabric. Look for clothes that you can easily coordinate without adding unnecessary bulk. When evaluating a garment, ask yourself — is it lightweight, breathable, water-repellent and / or wrinkle-resistant?
Here's a simple cheat-sheet even the most fashion-impaired can follow:
When choosing socks, cotton is fine, wool is better. Pick a pair that are a decent length. I prefer wearing compression socks — they're great for keeping your calves warm and help with reducing lactic acid buildup in your legs the following day.
Except when it's mild out, I strongly advise wearing a base layer consisting of a compression shirt and pants. Almost any sporting apparel company worth their ilk produces a decent product, but I personally like Under Armor's form-fitting ColdGear collection for retaining body heat.
For shirts, any type of technical fabric that wicks is fine. Some golfers enjoy wearing shirts that sport a heavier weave in winter such as pima cotton or a poly-cotton blend. In terms of pants, you'll need pair that are waterproof and windproof for really lousy weather; on better days you can't do much better than with Maide's Highland Pant which earns high marks for its traditional style and great fit.
Keep it simple with knits; stick to classic colors and silhouettes that can be worn on and off the course. The chunky and often-times scratchy sweaters of your father's generation have been replaced with lightweight knitwear made from performance wool fabrics that don't get in the way of your golf swing.
Depending on what you have on and the conditions you might encounter while golfing, you may want to bring a jacket or pullover that you can easily put on or take off as needed. Make sure you buy something wrinkle-free that you can fold up and shove into your golf bag. As far as footwear, it goes without saying that you should wear something water-proof.
When it comes to accessories, keep it simple. A warm hat, a stick of lip balm to carry in your pocket and a solid pair of gloves. FootJoy sells one of the best rain gloves in the industry and a pair of DryJoys Cart Mitts are easy to slip on and off between shots (in frigid conditions). On sunny days, remember to wear sunglasses. Too many people still think that temperature affects the intensity of UV radiation when in fact it doesn't. Exposure to the sun's rays can be just as damaging in the winter as it is in the summer.
At The Golf Course
So you're all bundled up like Hagrid in Harry Potter and you even managed to arrive to the club with plenty of time to spare. But from the moment you shut off your car's engine and feel that first blast of cold air, you briefly consider putting your car in reverse and heading home.
If you're expecting to hear some irrefutable advice that will help you conquer the cold and save you strokes playing on a surface hardly more forgiving than concrete, I'm sorry to say you've come to the wrong place. Bad shots and bad weather are made for each other. We've all experienced the thin shot that stings your hands, the skulled chip from a bare lie, the long approach that comes up well short, maybe even the dreaded shank. And if you happen to be playing in the rain, well, that's a whole other level of suck.
That being said, attitude plays a crucial role in determining how you cope with the elements and your mental state. You'll have a much better time out there if you come prepared with a game plan and set your expectations accordingly.
Use the extra time you have before your round begins to hit some balls on the range. Your goal here, as it should be at any time of year, is to establish a rhythm and a feel. Don't allow yourself to be preoccupied with distance or direction; after all, you're hitting frozen golf balls off a more frozen mat. If you have time to spare, drop a few balls down randomly just off the putting green and practice your chipping. Your ability to recover from a bunch of less-than-stellar shots short of the green might be the difference between playing for keeps or just playing to keep warm.
When it's time to tee off, always elect to walk the course if the opportunity presents itself. Golfers who keep their bodies moving between shots are less likely to feel cold and stiff. With any luck, the course will be half empty allowing you to play 18 holes at a brisk pace. 

While it's possible to post a good score in the winter, don't be obsessed with grinding out a low number. In fact, forget stroke play altogether — give alternative formats like match play, best ball or Stableford a chance. You might find that these games give your weekend matches some much-needed zip in the off-season. It might even encourage some of your less courageous golf buddies to get off the couch and join you. 

As for my actual advice on play, let common sense prevail: Move up a set of tees, club up in cold weather, learn to hit a punch shot and always keep your primary golf ball as warm as you can between shots.
When your round is over, hurry the hell up and get warm. If you're not accustomed to grabbing a meal or a drink at the club's grill room, make an exception. There's nothing better than sharing a table with good company, eating a burger hot off the grill and poking fun at all those unfortunate souls who won't celebrate making a birdie till Spring.
*Disclaimer: Always gain clearance for your training from a doctor or well-qualified exercise professional before commencement of an exercise regime.
Your Reaction?
LIKE

13

LEGIT

2

WOW

2

LOL

0

IDHT

0

FLOP

0

OB

0

SHANK

2
The Gear Dive: TrackMan's Lance Vinson Part 2
In this episode of the Gear Dive, Johnny goes even deeper into the TrackMan data with Tour Rep Lance Vinson. It's a ridiculous nerd out covering what the future holds, who is the most efficient player on tour, who hits it the best and a million other things.
Check out the full podcast on SoundCloud below, or click here to listen on iTunes or here to listen on Spotify.
Want more GolfWRX Radio? Check out our other shows (and the full archives for this show) below. 
Your Reaction?
LIKE

0

LEGIT

0

WOW

0

LOL

0

IDHT

2

FLOP

0

OB

0

SHANK

0
Mondays Off: How is the new PGA schedule looking? Gross golf bag cleaning story!
The new PGA schedule is out and how will so much major golf look in the fall. What golf gear would you buy with your stimulus check if you could blow it all on golf? Knudson has a gross story about cleaning out a golf bag.
Check out the full podcast on SoundCloud below, or click here to listen on iTunes or here to listen on Spotify.
Want more GolfWRX Radio? Check out our other shows (and the full archives for this show) below. 
Your Reaction?
LIKE

0

LEGIT

0

WOW

0

LOL

0

IDHT

0

FLOP

0

OB

0

SHANK

1
Tiger at the Masters: The 3 that got away
This time last year, Tiger Woods earned his fifth green jacket at the 2019 Masters, breaking a 14-year drought at Augusta National and completing a storybook career comeback (see Tiger Woods' 2019 Masters WITB here).
Between his 2005 and 2019 victories, Woods gave himself several chances to reclaim the green jacket, but for one reason or another, the championship continuously eluded the 15-time major winner.
Looking back on that drought, three years in particular stick out in my mind where Woods (being the ruthless closer that he is) could, and maybe should, have capitalized on massive opportunities.
2007 Masters
A unique tournament broke out at the 2007 Masters with chilly and windy conditions meaning we would see an over-par score winning the event for the first time in a generation.
Unusually however was the fact that Tiger Woods had got himself into a fantastic position heading into the final day's play—one stroke back of the lead and in the final group.
By the first hole on Sunday, Woods had a share of the lead. A couple of holes later, and he was the sole leader. But instead of the game's greatest ever closer doing what he does best, we saw the first small chink in Tiger's major armor.
Unable to keep up with the improved scoring on Sunday, Woods finished the championship two strokes behind Zach Johnson. It was the first time Woods lost a major in which he held the lead at some point in the final round.
Summing up after the round why things hadn't turned out the way the entire golf world expected, Woods said
"Looking back over the week I basically blew this tournament with two rounds where I had bogey, bogey finishes. That's 4-over in two holes. The last two holes, you just can't afford to do that and win major championships."
2011 Masters
In one of the most exciting final rounds in Masters history, an electric front-nine charge from Woods coupled with a Rory McIlroy collapse saw the then 35-year-old tied for the lead heading into the back nine.
After back-to-back pars on the challenging 10th and 11th holes, Woods found the green on the 12th before it all slipped away. A disastrous three-putt was followed by a deflating five on the par-5 13th and an agonizing near-miss for birdie on 14.
In typical defiant fashion, Woods then flushed a long iron on the par-5 15th to give him five feet for eagle and what would have been the outright lead. But he couldn't find the cup.
Directly following his round, a visibly miffed Woods said
"I should have shot an easy 3- or 4-under on the back nine and I only posted even. But I'm right there in the thick of it and a bunch of guys have a chance. We'll see what happens."
What happened was eventual champion Charl Schwartzel did what Woods said he should have done—shooting 4 under on the back to win his first major.
2013 Masters
Luck, or lack of, is a contentious topic when it comes to sports fans, but at the 2013 Masters, Woods' shocking fate played out as if those on Mount Olympus were orchestrating the tournament.
Woods entered the 2013 Masters as the World Number One, brimming with confidence having won three out of his first five tournaments to start the year.
By Friday afternoon, Woods had cruised into a share of the lead, before crisply striking a wedge on the par-5 15th as he hunted for another birdie.
In a cruel twist of fate, Woods' ball struck the pin and ricocheted back into the water. "Royally cheated!" shouted on-course announcer David Feherty. Nobody could argue otherwise.
A subsequent "bad drop" turned a probable birdie into a triple-bogey placing Woods behind the proverbial 8-ball for the rest of the tournament. The game's ultimate closer should have been in the lead with two rounds to play on a front-runner's paradise of a course; instead, he was in chase-mode. (From 1991-2012, 19 of the 22 winners came from the final group).
Woods tried to rally over the weekend, but if he didn't think the 2013 Masters was ill-fated for himself by Friday evening, then he would have been excused to do so on the eighth hole on Saturday.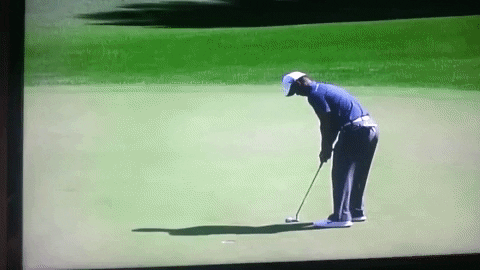 Had Woods' golf ball missed the pin at 15 on that hot and humid Spring afternoon in 2013, then he not only wins, but he likely wins going away.
Your Reaction?
LIKE

34

LEGIT

1

WOW

2

LOL

0

IDHT

0

FLOP

1

OB

0

SHANK

1