Is golf participation really dropping? (Part 3)
Let's cut to the chase. Has there been a precipitous drop in golf participation or is it the hand wringing of borderline operators? I promised an analysis based on fact and will proceed accordingly.
Before I start, I want to talk about professional golf: the PGA, LPGA, Champions and Web.com tours. This is not golf as far as a participation issue. It's TV entertainment played by the most skilled golfers in the world. Take away TV and the purses would be peanuts with the PR folks desperately looking for sponsors.
As a percentage, professional golfers represent some 0.05-to-0.07 percent of all golfers, but if you read the golf magazines and listen to golf commentary and you might think that they were golf. No business model focuses on 0.05 percent of the market for decision making, yet the ruling bodies are greatly influenced by these stars and it's almost as if the other 99.95 percent of golfers don't count. Yes the pros are a factor in showing us the game at its highest level and yes they can be considered a positive influence. When you see the participation hard numbers, you will also see that while they're a factor they haven't moved the needle.
Add in the elite amateurs (another miniscule group: about 3.4 percent of golfers who play almost to a professional level) and we see more examples of an industry that focuses on the minority. Look up courses on the internet and you'll find language such as, "Come play our 7200-yard, ultra-challenging course," etc.
Really, if all the amateurs in the U.S. who could actually play a 7200-yard course were to play golf at the same time, there would be still be tons of empty golf courses in this country. But I digress…
This segment is about a statistical evaluation of participation. My primary database is The National Golf Foundation (NGF). The NGF is sponsored by the various facets of the golf industry and produce a variety of studies on participation. I promised facts not opinions, but others besides me have accused the NGF of painting the numbers in the best possible light. I prefer to look at the data and state the obvious.
The NGF reports a core base of some 25 million golfers, down from 30 million in 2000.
Some 40 percent of that total is a category called occasional golfers, who are age 6 and up who play more than once per year. In 2000, they accounted for about 9.1 million golfers. In 2012, that number grew to 11.6 million golfers.
Then we have core golfers, who are age 6 and up who play more than eight times per year. They accounted for about 19.7 million golfers in 2000, but only 13.7 million golfers in 2012.
I like to focus on what the NGF calls avid golfers, which are folks (age 6 and up) who play more than 25 times per year. In 2000, there were 10.2 million avid golfers, but that number dropped nearly 4 million to 6.4 million in 2012.
Why focus on avid golfers you might ask? Shouldn't the emphasis be on getting the members of the other categories to play more? In fact, if you look at the occasional category you'll see that it actually increased from 9.1 million in 2000 to 11.6 million in 2014. This would be an example of selective analysis, something for a cheerleader. I could point out this fact to the exclusion of all others. But when you look at the accumulated numbers, one thing is evident; there has been some success getting new players to the course, but it's been overridden by the fact that they don't continue playing.
I'm not going into the population factor in detail; over the years we had a significant increase as golf went up AND down. Today's Caucasian population rate of increase is down, so overall increases come from minorities who are not inclined toward golf as a group. I could turn this data alone into a very negative assessment, but let's just say population isn't a positive factor.
In the marketing business this is very serious. The hard job is new customers, and when you get them and can't keep them you have a major problem.
When I looked at the numbers in greater detail I learned that the avid category picked up the tab for some 71 percent of all golf-related expenses. So a modest increase in the avid category has greater impact than a more significant increase in the other two. If we add in the golfers who play more than eight rounds a year, we now have 94 percent of golf spending.
What about junior golf? What have all the industry sponsored programs achieved? It's down 10 percent since 2000 and more than 20 percent since it peaked in 2005. That could be the subject of a study unto itself, but the bottom line is that it isn't something of promise for the future. You can join the NGF for $125 a year if you want to peruse their data.
During the last 14 years there has been a variety of articles blaming weather, the economy and a variety of short-term influences. I maintain that over 14 years these influences have been mitigated.
Why are golfers leaving? In all surveys there is one dominant theme; too slow, no fun. And, for the record, too slow IS no fun.
This will evoke a response from those who say I'm ignoring cost. Not at all; I'm just focused on optimizing value. More than 145 courses closed in 2013 and the vast majority had greens fees and carts under $40. Value first, cost will follow. There was very inexpensive tennis during its decline.
There probably isn't a reader that can't point to one specific negative factor that is beyond my boundaries. There is the whole concept of disregarding rules and using "fixes" like 15-inch cups.
I understand the thinking behind all that, but with the overall objective of increasing participation I'll stay focused; golf needs more avid players. We know who we want to get more involved in the game and we know why they are leaving. Let's give the plan for bringing them back a 100 percent focused effort. If it shows no progress after a credible time period then we can go off the reservation.
Related
Your Reaction?
LIKE

4

LEGIT

1

WOW

0

LOL

0

IDHT

0

FLOP

0

OB

0

SHANK

1
Tiger at the Masters: The 3 that got away
This time last year, Tiger Woods earned his fifth green jacket at the 2019 Masters, breaking a 14-year drought at Augusta National and completing a storybook career comeback (see Tiger Woods' 2019 Masters WITB here).
Between his 2005 and 2019 victories, Woods gave himself several chances to reclaim the green jacket, but for one reason or another, the championship continuously eluded the 15-time major winner.
Looking back on that drought, three years in particular stick out in my mind where Woods (being the ruthless closer that he is) could, and maybe should, have capitalized on massive opportunities.
2007 Masters
A unique tournament broke out at the 2007 Masters with chilly and windy conditions meaning we would see an over-par score winning the event for the first time in a generation.
Unusually however was the fact that Tiger Woods had got himself into a fantastic position heading into the final day's play—one stroke back of the lead and in the final group.
By the first hole on Sunday, Woods had a share of the lead. A couple of holes later, and he was the sole leader. But instead of the game's greatest ever closer doing what he does best, we saw the first small chink in Tiger's major armor.
Unable to keep up with the improved scoring on Sunday, Woods finished the championship two strokes behind Zach Johnson. It was the first time Woods lost a major in which he held the lead at some point in the final round.
Summing up after the round why things hadn't turned out the way the entire golf world expected, Woods said
"Looking back over the week I basically blew this tournament with two rounds where I had bogey, bogey finishes. That's 4-over in two holes. The last two holes, you just can't afford to do that and win major championships."
2011 Masters
In one of the most exciting final rounds in Masters history, an electric front-nine charge from Woods coupled with a Rory McIlroy collapse saw the then 35-year-old tied for the lead heading into the back nine.
After back-to-back pars on the challenging 10th and 11th holes, Woods found the green on the 12th before it all slipped away. A disastrous three-putt was followed by a deflating five on the par-5 13th and an agonizing near-miss for birdie on 14.
In typical defiant fashion, Woods then flushed a long iron on the par-5 15th to give him five feet for eagle and what would have been the outright lead. But he couldn't find the cup.
Directly following his round, a visibly miffed Woods said
"I should have shot an easy 3- or 4-under on the back nine and I only posted even. But I'm right there in the thick of it and a bunch of guys have a chance. We'll see what happens."
What happened was eventual champion Charl Schwartzel did what Woods said he should have done—shooting 4 under on the back to win his first major.
2013 Masters
Luck, or lack of, is a contentious topic when it comes to sports fans, but at the 2013 Masters, Woods' shocking fate played out as if those on Mount Olympus were orchestrating the tournament.
Woods entered the 2013 Masters as the World Number One, brimming with confidence having won three out of his first five tournaments to start the year.
By Friday afternoon, Woods had cruised into a share of the lead, before crisply striking a wedge on the par-5 15th as he hunted for another birdie.
In a cruel twist of fate, Woods' ball struck the pin and ricocheted back into the water. "Royally cheated!" shouted on-course announcer David Feherty. Nobody could argue otherwise.
A subsequent "bad drop" turned a probable birdie into a triple-bogey placing Woods behind the proverbial 8-ball for the rest of the tournament. The game's ultimate closer should have been in the lead with two rounds to play on a front-runner's paradise of a course; instead, he was in chase-mode. (From 1991-2012, 19 of the 22 winners came from the final group).
Woods tried to rally over the weekend, but if he didn't think the 2013 Masters was ill-fated for himself by Friday evening, then he would have been excused to do so on the eighth hole on Saturday.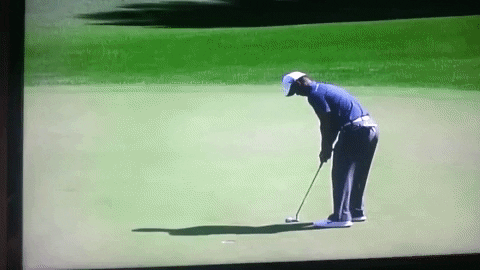 Had Woods' golf ball missed the pin at 15 on that hot and humid Spring afternoon in 2013, then he not only wins, but he likely wins going away.
Your Reaction?
LIKE

14

LEGIT

1

WOW

1

LOL

0

IDHT

0

FLOP

1

OB

0

SHANK

1
The Wedge Guy: Power Leak No. 1: Your grip
One of the things I like the best is when a friend or stranger asks me to take a look at their swing to see if I can help them. I never get into the "lesson" business, because that is the domain of our golf staff at the club. But I have spent a lifetime in this game, and have studied the golf swing pretty relentlessly. I also have been blessed with a pretty good eye.
So, the other day, I was out hitting some balls in the afternoon, and a good friend from the club asked if I'd take a look at where he is losing power. Darrell is a big guy and a good player, but not nearly as long as you would think he'd be. He plays with the "big dog" money game, which has a few really big hitters that can be quite intimidating.
I've played with Darrell enough to know exactly where his power leaks were, so when he came out to the range, I watched him hit a few and dropped the first one on him.
"It's your grip!"
He, like so many amateur golfers, was holding the club too far out on the end, and much too high in his palms — not low in the fingers like you should. I've always been of the opinion that the grip is the most important fundamental in the entire golf swing. Without a solid and fundamentally sound hold on the golf club, the rest of the swing cannot function at its best. Hogan thought it was so important, he dedicated a whole chapter of "Five Lessons" to the subject.
You'll see the occasional pretty good scorer at the club with a funky grip, but you never see a bad grip on tour. The golfer who has mastered a great grip is the most teachable there is.
In my opinion, the grip is only 'personal' to a small degree. Whether you like to overlap, interlock or use the full finger grip (not baseball)…whether you like to rotate your hands a little stronger or weaker . . . the fundamentals are the same, and they aren't negotiable.
The club has to be in your fingers to allow the "lag" that builds power, and to allow or even force the optimum release of the club through impact. The last three fingers of the left hand have to control the club so that it can be pulled through the impact zone. The right hand hold is limited to the curling of the two middle fingers around the grip, and neither set of forefingers and thumbs should be engaged much at all. One of the best drills for any golfer is to hit balls with the right forefinger and thumb totally disengaged from the grip. Google "Hogan grip photos" and study them!!!!!!
So, with the changes in the grip I had Darrell make, he immediately began ripping drivers 15-20 yards further downrange than he had. The ball flight and even sound of the ball off the driver was more impressive. So we went out to play a few holes to see what happened.
Historically, Darrell is only 5-10 yards longer than me at best, and sometimes I outdrive him. But not anymore!! On those five holes we played late that afternoon, he consistently flew it out there 20-25 yards past my best drives.
And that made us both really happy!
Next Tuesday, I'll talk about the second in this series on Power Leaks.
Your Reaction?
LIKE

25

LEGIT

4

WOW

1

LOL

0

IDHT

0

FLOP

0

OB

0

SHANK

0
On Spec: Dr. Paul Wood, Ping Golf's VP of Engineering
Host Ryan Barath talks all things design and innovation with VP of Engineering at Ping Golf, Dr. Paul Wood.
Check out the full podcast on SoundCloud below, or click here to listen on iTunes or here to listen on Spotify.
Want more GolfWRX Radio? Check out our other shows (and the full archives for this show) below. 
Your Reaction?
LIKE

4

LEGIT

2

WOW

0

LOL

0

IDHT

0

FLOP

0

OB

0

SHANK

2