Member Pure745's Shootout: 2014 Driver Testing
GolfWRX Member Pure745 has become one of the most trusted names in our forum when it comes to club testing. Each year, he purchases the latest driver heads and shafts and compiles a "shootout" of the numbers to gauge what shaft/head combos are performing best for him, and what he'll play that year.
Enjoy his 2014 shootout of the Callaway Big Bertha Alpha, Fourteen GelongD, Nike Covert 2.0 Tour, Ping i25, TaylorMade SLDR 430 (Tour Head) and TaylorMade SLDR 460 (Tour Head).
Note: This story has been edited from its original form in the forums by GolfWRX's Staff for front-page publication. 
—————————————————————————————————————————————————————————–
I thought I would post another one of these threads to give fellow WRX'ers some insight into some of the club testing experiments I have been doing.  I have been posting pictures, information and feedback across a few different threads and thought it would be easier to have a centralized place to put some of the information. I have done similar threads over the years. Last year's can be found here: http://www.golfwrx.com/forums/topic/804831-pure745s-2013-shootout-the-oven-setup-added-613.
Previously, I have done these threads to provided unbiased feedback since all of the testing is done on my own dime to give some opinions that were not influenced by GolfWRX trip and giveaways. Last year was a big golf year for me for a few reasons. One reason was that I was lucky enough to be chosen for the GolfWRX Nike Oven trip, and the other would be that I joined a country club and have played the most golf I have played since I played competitively as a junior. That said, my experience at The Oven and playing as much competitive/tournament golf this year as I have in many years, my game has improved and my taste in equipment has changed (slightly).
My index has gotten to a low of +2 this year, and my two low tournament scores are 67 and 69. That said, I still have a full time job, and golf is still 100 percent a hobby and for pure enjoyment. I can still put up a round in the 80's. I do enjoy playing tournaments and interclub matches, but I have also been working on my game and my swing more than usual.
This year has had a lot of exciting new clubs to test. As you might remember, Titleist's 913 D3 driver won my shootout last year for the best overall combination of length and accuracy. This was the driver I took The Oven, and it definitely held its own against the Covert Tour, which didn't last more than one month (12 rounds) in my bag. The Titleist 913 D3 with Fujikura's Motore Speeder Tour Spec 7.2X shaft was very solid. But I started tinkering this year because I wanted to see if I could find a driver with more distance that I could hit just as straight. Right now, my index is floating between +1 and scratch. I have been playing a decent amount of competitive matches and tournaments, so I feel my index pretty accurate. My home course has a lot of OB and is fairly long, so being accurate off the tee is very important to me; but when I hit one good, I definitely want to be rewarded with the distance.
The Process
I have always been a huge advocate of taking setups outdoors and on the golf course, and have always put huge value into seeing the actual ball flight over hitting balls into a net and getting numbers. This year's shootout has definitely shown me the importance of this methodology if you have the resources available to you. I have been able to hit all setups extensively on the golf course except for the Ping i25 and Big Bertha Alpha, but through this year's process of going to three different locations and taking more than 80 swings at each within four days gave me a great idea of how these clubs perform outdoors and indoors.
The locations and notes about each experience
Finding a location to provide reliable and accurate data for this was shootout was the hardest and most time consuming part. I will list the different methods I tried so that you can use the information as a "what to do" or "what not to do" when comparing your own setups.
Location No. 1 — TaylorMade Performance Lab: I picked this one because it is a nice facility, uses a FlightScope and is close to my house. Apparently, right before I went in for my scheduled 2.5 hours there, there was a malfunction with the ball washer that literally gashed every ball. Aside from the gashed balls, the location is in the midst of switching from the TaylorMade practice balls to its new Tour Preferred X practice balls to do their fittings. So needless to say, the balls were a huge issue and hitting gashed balls into a steady 15 mph wind was less than ideal.
Location No. 2 — Indoors at a New Superstore: Since it was so windy the day before and the balls were an issue, I thought I would make an exception and go indoors and use a TaylorMade Lethal for all clubs so that wind and balls were not an issue. The problem was that the launch monitors used cameras and they were not catching accurate spin numbers. The other numbers seem pretty close, but spin was WAY off. Every setup was averaging more than 3000 rpm of spin. Also, I had swing speeds up in the 130+ range, which is in the very upper range of my swing speed. The problem with indoor ranges is that I was in gym clothes swinging as hard as I could because I was just hitting into a net. This felt more like a cardio workout than a shootout. Needless to say, the swings did not feel like my normal on-course swing. When I looked at the numbers and saw they were bad, I did not want to continue.
Location No. 3 — Cool Clubs (Irvine): An outdoor Trackman, adequate range balls (brand new) specifically setup for this type of testing. The final location came highly recommended to me by a few people, and a few that knew what I was trying to do and saw my frustration and exhaustion in this process. I finally ended up working with Josiah at Cool Clubs in Irvine, Calif. This location is farther from my house, but my sources were right. This place was beyond top notch. They understood what I was doing and provided very professional help during the process. All balls were hit outdoors and off grass. I was wearing actual golf clothes and the golf shoes I would normally wear. This third session was also my best grouping of swings. My swing speed was in the 115-to-119 mph range the entire time. That's my on-course swing; I was not trying to kill the ball or overswing to get "long drive" numbers. I was trying to hit the ball straight and solid.
The Setups
TaylorMade SLDR 460 Tour Head (10.5 degrees)
Adjustable hosel set to lower, or -1.5 degrees.
Shafts tested: Aldila Rogue 70 (TX-Flex), Fujikura Speeder 661X, Graphite Design Tour AD BB-6X
TaylorMade SLDR 430 Tour Head (10.5 degrees)
Adjustable hosel set to lower, or -1.5 degrees.
Shafts tested: Aldila Rogue 70 (TX-Flex), Fujikura Speeder 661 (X-Flex), Graphite Design Tour AD BB-6X
Callaway Big Bertha Alpha (9 degrees)
Set to 9 degrees with neutral lie angle
Shafts tested: Graphite Design Tour AD BB-6X
Ping i25 (8.5 degrees)

Set to 8.5 degrees
Shafts tested: Graphite Design Tour AD BB-6X
Nike Covert 2.0 Tour (8.5 degrees)
Shafts tested: Fujikura Speeder 661 (X-Flex)
Fourteen GelongD CT214 (8 degrees)
Shafts Tested: Fujikura Motore Speeder Tour Spec 7.2X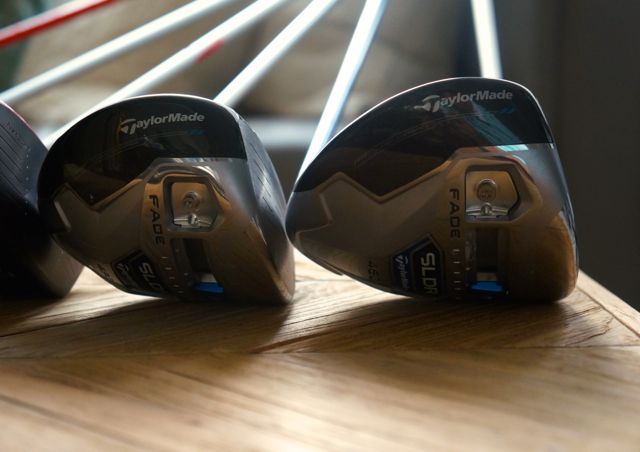 Above: Tour-only TaylorMade 460 and 430 toe screws that are used to adjust swing weight.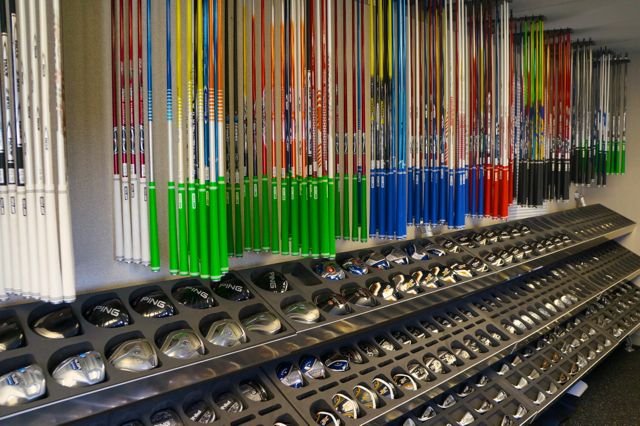 Above: The head and shaft options at Cool Clubs in Irvine, Calif.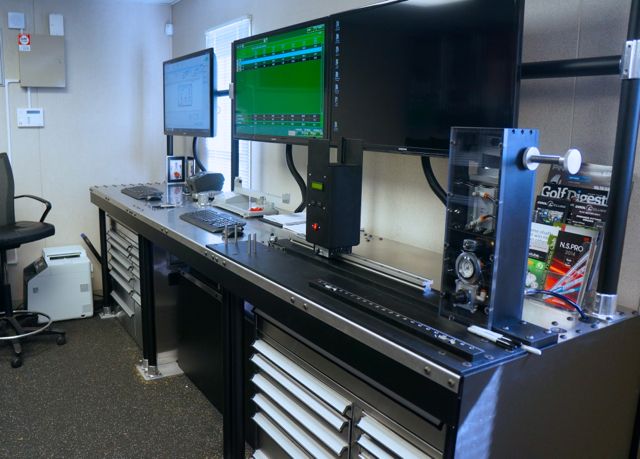 Above: The setup inside a Cool Clubs Trackman bay.

Above: Everyone's favorite orange box.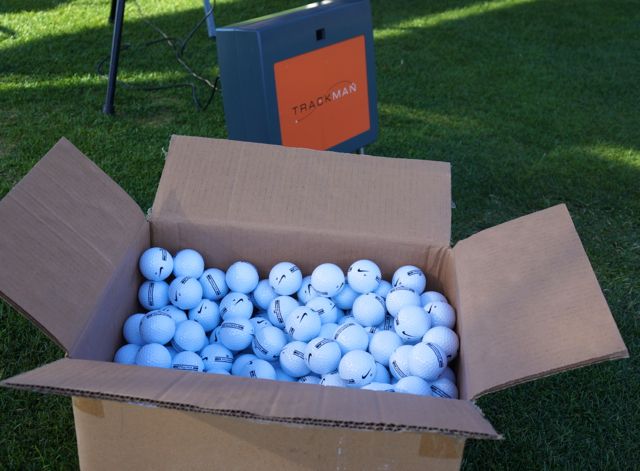 Above: The brand new Nike Practice balls I hit at Cool Clubs. 
The Data
This is about as transparent and detailed of any shootout I have done. The conditions were nice, but it had just rained the previous night and there was a swirling wind. I would say it only affected the numbers of two clubs: the Big Bertha Alpha and Covert 2.0 Tour, which got the benefit of a little downwind breeze that the other drivers did not have. I didn't adjust the numbers, but just thought it needed to be mentioned. Also, for the SLDR 430 setup with the Fujikura Speeder 661 shaft, Trackman doubled the spin number due to a shadow, so the spin average was off and I have recalculated it to be 2576 rpm.
As I mentioned before, all of these swings were smooth swings, similar to what I would use on the course with an emphasis on hitting the ball solid and straight versus swinging 100 percent to get max long drive numbers. With each setup, I hit about 5-to-6 balls to get a good solid sampling of three shots to get a realistic averages. Sometimes it only took three swings to get this average, sometimes it took five or six. The data reflects the averages of three "good shots" with each setup.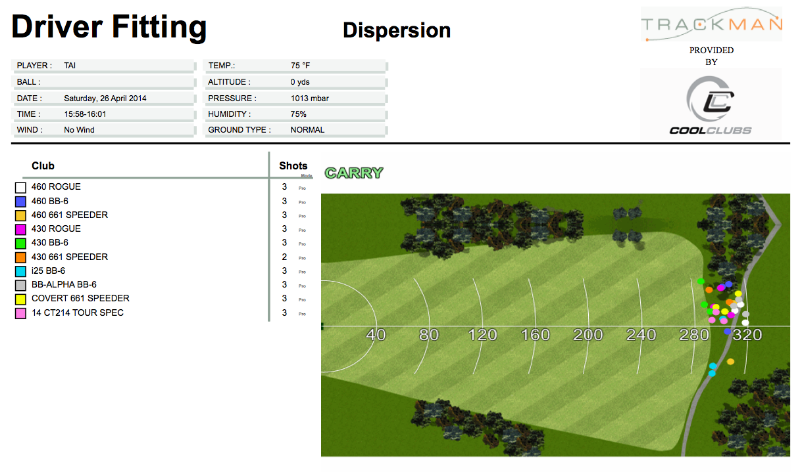 The Results
Trackman Carry
TaylorMade SLDR 460 Tour Head (Aldila Rogue): 314.5 yards
Callaway Big Bertha Alpha (GD Tour AD BB-6X): 314 yards
TaylorMade SLDR 460 Tour Head (Fuji Speeder 661): 308.5 yards
TaylorMade SLDR 460 Tour Head (GD Tour AD BB-6X): 304.9 yards
Nike Covert 2.0 Tour (Speeder 661): 304.4 yards
TaylorMade SLDR 430 Tour Head (Aldila Rogue): 301.1 yards
TaylorMade SLDR 430 Tour Head (Speeder 661): 299.5 yards
Ping i25 (GD Tour AD BB-6X): 297.5 yards
Fourteen GelongD (Fuji Motore Speeder Tour Spec 7.2): 297 yards
TaylorMade SLDR 430 Tour Head (GD Tour AD BB-6X): 288.9 yards
Trackman Ball Speed
TaylorMade SLDR 460 Tour Head (Aldila Rogue): 175.6 mph

Callaway Big Bertha Alpha (GD Tour AD BB-6X): 175.1 mph
TaylorMade SLDR 430 Tour Head (Aldila Rogue): 174.9 mph
TaylorMade SLDR 460 Tour Head (Fuji Speeder 661): 174.7 mph
TaylorMade SLDR 430 Tour Head (Speeder 661): 174.5 mph
Ping i25 (GD Tour AD BB-6X): 174.2 mph
Fourteen GelongD (Fuji Motore Speeder Tour Spec 7.2): 173.9 mph
TaylorMade SLDR 430 Tour Head (GD Tour AD BB-6X): 173 mph
Nike Covert 2.0 Tour (Speeder 661): 172.1 mph
TaylorMade SLDR 460 Tour Head (GD Tour AD BB-6X): 170.6 mph
The Winner: TaylorMade 460 with Aldila Rogue shaft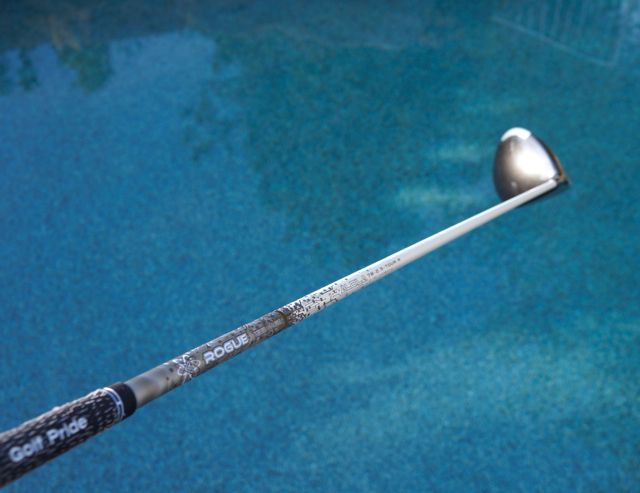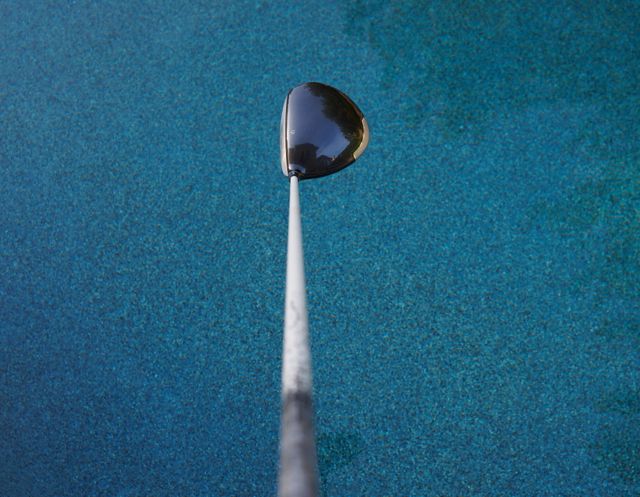 Final thoughts and comments
TaylorMade SLDR 460/430: 

For me, the SLDR 460 head is hands down better than the SLDR 430. Smash factor plays a huge part in these comparisons, and some heads you can just hit better more consistently. The SLDR 460 is definitely the head for me; it's not even close. I do LOVE the way the SLDR 430 looks, but looks only go so far. The SLDR 460 with Aldila's Rogue and the SLDR 460 with Fujikura's Speeder 661 were really, really good and VERY straight.

Callaway Big Bertha Alpha:

 This club is legit. I can tell by the way the balls come off this club that the Alpha was no joke with the Graphite Design Tour AD BB-6X shaft. The club looks good at address and sounds nice. This review is more about performance, but the fit and finish of the Callaway leaves something to be desired in my opinion. This club was also very accurate and long. I would say it was the third most accurate behind the SLDR 460 with Aldila's Rogue and the SLDR 460 with Fujikura's Speeder 661. 

Ping i25:

This was a very nice club with a very loud at impact, and it looks pretty good at address. The racing stripes are kind of silly, but I adjusted to them easily (unlike the red crown on Nike's Covert drivers). It was a very solid performer overall. Ping fans definitely can dial this thing in to be very long.

Nike Covert 2.0 Tour: The numbers and the slight tail wind definitely made this club look a lot better than it was. The Covert 2.0 Tour was one of the worst performing clubs in this shootout. It had one of the lowest ball speed outputs and highest spin rates. I saw this across all three sessions. The third and final session on Trackman was the best I hit it, and it still wasn't that great. I'm thinking that the Covert 2.0 Performance model will be better for me than the Tour model, but at this point I'm not sure I want to throw another $500 at an experiment. The red crown still looks terrible to me and with the head being so heavy, I think has a huge effect on the shafts causing the toe to droop at impact and make it very fade biased. I did hit a few that were absolutely killed, but overall this driver was not as consistent as the SLDR, i25, or Big Bertha Alpha.
Fourteen GelongD: Not many people will ever see this one in person, but it is one of the best looking heads I tried. It has a simple, all-black pear-shaped head with some tech in the face. I think this driver was one that actually did better than the numbers reflected (the opposite of the Covert 2.0 Tour). It offers very low launch and low spin, and is fairly consistent consistent across the face. It wasn't as accurate as the Big Bertha Alpha and SLDR: maybe one notch below that. If you are looking for a fade-biased and really low/low setup, this one is worth a shot.
Click here to see what GolfWRX Members are saying about Pure745's 2014 Driver Shootout in our forum.
Your Reaction?
LIKE

6

LEGIT

0

WOW

0

LOL

0

IDHT

0

FLOP

1

OB

0

SHANK

1
Forum Thread of the Day: "Optimal bag setup for a high handicapper?"
Today's Forum Thread of the Day comes from rkillian who has opened up a discussion on the optimal bag setup for high handicappers. Here's a look at rkillian's current set-up: 
"Driver 9 degree head turned up to 2 to 11 degrees. I get my most consistent ball flight and distance from this setting. The 9 gave me the best numbers that day in the store but up 2 degrees works much better for me on the course – Total average is about 270 set like this"
"HL 3 Wood at 16.5 Degrees – total average is 235 off the tee, but I have hit some into the 250s. But I can't hit it off the deck whatsoever. I get lucky sometimes when I try and hit it off a mat at the range but never off actual turf.
3 Hybrid 19 degrees – a well-struck shot will go nearly that same distance as my 3 wood maybe 220. But a well-struck shot with this club is the anomaly here.
4 Hybrid 22 degrees – I can hit this club pretty consistently 200 yards plus if I don't chunk it and up to 220 total or more on the right hole from a tee.
5i-PW at 45 Degrees – I don't hit my 5 iron consistently, but I am "ok" with my irons. My 8 iron is my 150-yard club when well struck.
Gw at 52 – This almost never gets used. It is about a 110-yard full swing, and I have found that I am never really at that yardage.
Sw at 56 – about 90-95 yards on a full swing but it can balloon on my and fall short. I am finding I don't use it on full swings often though. Pretty much use it 80 yards and in.
and of course the 3-putt machine."
Our members have been sharing their thoughts in our forums, with a range of interesting ideas suggested.
Here are a few posts from the thread, but make sure to check out the entire discussion and have your say at the link below.
jvincent: "You don't talk about how long the various clubs are or what shafts are in them, so this is somewhat a guess based on what you have said above. Definitely drop the 3W in favour of a 4W or 5W. Since it looks like the driver is working for you, try to get the same model of shaft, but in a heavier version. Make sure that the length of the fairway wood you end up with is no longer than 42.5″. I'd recommend 42″. You don't say if the current hybrids are the same brand or not, but if not, try to get a 3 that matches your 4. Again, shaft weight and length are important. A long hybrid that you can't hit aren't any good to you. I'd keep the 5i. I would add back the 52* wedge. At your skill level, not having to manufacture a partial swing is going to be better in the long run. Again, if it doesn't match your irons at least try to get the same shaft weight and make sure it is the correct length."

ChipNRun: "Two main observations: 

FW Shaft

. Your 3W/HL may have a common problem with TaylorMade FWs: the shaft is too long. The 3W/HL has the same shaft length as a 3W, not a 4W. If you trimmed shaft back to 42.5″, this might help get you the better control of a 4W. (assuming swing weight does not get too light – you could have fitter tip-weight it if it feels too feathery.) Work with a fitter to see if a shorter shaft might help. 

Lessons!!

 Since you shoot about 96, you need to tweak your golf swing before you tweak your bag mix. Get a swing tune-up lesson, and see if the pro can figure out adjustments you can make to hit the ball better. A lesson or two can take you farther in a month than you can get on your own in a full season. It appears you are stuck in the mud: find a pro who can help pull you out. Then, 

practice what the pro tells you

 – and play some holes if weather permits – before your next lesson."

mkuether: "Very interesting topic! Like many others who have already posted, I think we have a lot in common. My distances are very similar to yours, and your scores are similar to where I was about ten years ago. I also struggled with my longer irons, hybrids, and especially fairway woods. The good news is that I was able to find a set that worked for me and improve significantly. I am sure you can do the same. First, the #1 thing that has helped me has been to simply get clubs I was comfortable with. It took me a while to find a hybrid that really suited me, but once I did, it made a huge difference in my confidence. I ended up dropping my 5-wood entirely because I was just never confident with it, but a 19-degree hybrid was much better (for me). I also stopped trying to hit a 3-wood off the deck (I was terrible at it) and reserved it for the occasional shot off the tee where I felt driver was too much. My 3-wood doesn't get a lot of use since in my case I'm simply more confident with my 460cc driver, and I can usually throttle back and hit that shorter when needed. Anyway, I'm not sure why I'm so much more confident with my hybrids now (who knows, maybe they just suit my eye), but the confidence really helps. I also avoid playing clubs with longer than average shafts (e.g. my driver is 44.5″) and I find that really helps my confidence and consistency. If you're already having trouble with fairway woods, longer shafts are only going to make it worse. I would also try and learn to hit your shorter irons as distance clubs on full swings, that has helped me a lot too. Knowing that I have a consistent, full-swing shot that I can hit a consistent distance (or pretty close) down to about 80 yards has definitely helped my scores. You seem to play an incredibly short course for your overall distance so I can't imagine that you're getting that much use out of your longer clubs anyway. Just curious, do you enjoy playing a course that short? I find it more fun to play a slightly longer course where I have a variety of shorts in the greens, seems like you would be hitting driver/wedge on every hole unless you're teeing off with shorter clubs on purpose. In any case, a golfer of your skill level (or mine) is going to be missing the green on most approaches with a wood or hybrid, so it probably makes more sense to work on optimizing the bottom half of your bag since you'll need to get up and down a lot. Anyway, good luck improving. I'm sure a little experimentation with different clubs will go a long way towards feeling more confident and playing better."

CapnSwagga: "I don't write much here I'm not a writer its easy to have something profound to say but to be able to eloquently write it I have not these skills, but I'll try to make my point, I myself played the same game constantly trapped in trying to figure out what equipment was for me. A close friend and golf professional helped me tremendously after a few rounds, and it wasn't any advice on my swing or what my equipment should be it was simply: stop. Stop thinking, stop worrying, stop analyzing (although it is very important to analyze post swing). We get a wrapped up in the idea of what's supposed to be right or work or what we see on TV and in reality the one simple principle "hit the ball" gets shrouded over. People will go on and on who makes the best clubs or ball or what shaft is going to work the best for you, but any golfer could pick up any piece of crap and knock it out there…off grass, turf, mats, tees or even a strippers **** it's the confidence to do what is required without any additional thought. I don't disagree with suggestions others made above and gapping your bag is also very vital, so I'm sorry if my comment goes slightly off your topic I think having a solid practice regime and dedication are truly the tools to become better at golf. Thanks for the read."
Entire Thread: "Optimal bag set-up for a high handicapper?"
Your Reaction?
LIKE

2

LEGIT

0

WOW

0

LOL

0

IDHT

0

FLOP

0

OB

0

SHANK

3
Srixon/Cleveland Golf/XXIO launches two new golf shoe models by Asics: the Gel-Course Glide and Gel-Course Duo Boa
Srixon/Cleveland Golf/XXIO in partnership with Asics has unveiled two brand-new golf shoe models: the Gel-Course Glide and Gel-Course Duo Boa.
The new additions from Asics are built with inspiration from the brand's running shoes and aim to deliver maximum comfort and flexibility while providing ultimate traction and stability.
The Gel-Course Duo Boa model features the Boa lacing system for fast, precise fitting through a quick adjusting dial to tighten or loosen the lacing. The shoes are fully waterproof and contain a traction sole pattern with seven spikes.
The Gel-Course Glide shoe is an alternative spikeless version with standard laces designed to provide golfers with versatility on and off the course.
Both the Gel-Course Glide and Gel-Course Duo Boa feature an air mesh which aims to offer excellent flexibility during the swing and while walking the golf course. The company's FlyteFoam technology is designed to provide lightweight shock absorption and exceptional durability in each shoe.
Speaking on the new golf shoes, Mike Powell, President of Sales and Marketing at Srixon/Cleveland Golf/XXIO, stated
"I'm excited to introduce ASICS golf footwear into the U.S. golf market with the Gel-Course Glide and Gel Course Duo Boa models. Asics is a huge global sports brand and widely recognized as the leader in performance footwear.

They have a rich heritage of innovation and product quality and align with our values as a company. These two models will appeal to golfers that enjoy an active and healthy outdoor lifestyle and love the performance and comfort that Asics is famous for."
According to the company, the spikes are placed precisely to provide maximum stability and traction while walking the course through an FG traction sole pattern, while the Asics Rearfoot GEL brand technology provides cushioning which aims to reduce impact and increases shock absorption. The shoes also contain Toe and Lateral rubber wraps which look to help players maintain balance throughout the golf swing
Both new additions also include an air mesh at vamp with an integrated quarter panel designed for a supportive fit, with an internal molded heel counter in a bid to offer optimal foot support. The shoes contain additional ankle padding which looks to help create a custom fit that adapts to every move
The Gel-Course Duo Boa model MSRP for $179.99 and are offered in men's Sizes 6-12, and 13. The shoe comes in three different color codes – Black/Gunmetal, White/Peacoat, and Peacoat/Pure Silver.
The Gel-Course Glide shoes MSRP for $129.99 and are offered in men's (6-12, 13) and women's (6-10) sizes. The men's edition come in four different color codes – Black/Silver, White/Polar Shade, Polar Shade/Black, and Blue/White. The women's Gel Course Glide shoes come in two different color codes – Metropolis/White and Orchid/White.
Both new additions from Asics are available at authorized golf shops and golf specialty retailers across North America, as well as online at Srixon.com/Asics beginning today.
Your Reaction?
LIKE

53

LEGIT

6

WOW

6

LOL

2

IDHT

0

FLOP

3

OB

1

SHANK

6
Forum Thread of the Day: "Patrick Reed's custom Scotty Cameron Captain America putter"
Today's Forum Thread of the Day showcases Patrick Reed's custom Scotty Cameron Captain America putter. The Texan had the putter made for the 2018 Ryder Cup and didn't put it into action, but Reed has the flat-stick in the bag this week at the Hero World Challenge, and it's serving him well as he sits atop the leaderboard at the halfway mark.
Here are a few posts from the thread, but make sure to check out the entire discussion and have your say on the putter at the link below.
JBull1011: "Awesome looking putter!"
Cmiller6868: "My dream putter. This putter gets better looking every time I click on it."
SubaruWRX: "I know it's picky, but I wish he'd done white paint fill in the middle dot."
Entire Thread: "Patrick Reed's custom Scotty Cameron Captain America putter"
Your Reaction?
LIKE

25

LEGIT

5

WOW

0

LOL

0

IDHT

0

FLOP

1

OB

0

SHANK

9