Carry on: Tour caddies make the right move in organizing APTC
So this is what happens when they cancel the caddie races. Many of the most high-profile caddies in professional golf, as well as members of the rank and file, have banded together to form the Association of Professional Tour Caddies (APTC) in order to create both a unified voice and lobby.
Now, before you say, "These guys get paid hundred of thousands of dollars to carry a bag," it's important to remember that professional caddies do much more than merely hand a player his/her club; they are vital to the success of professional golfers.
One of the best brief summaries of the roles caddie play beyond charting courses, giving yardages, and carrying bags was written by Larry Dorman in the New York Times during the course of the Tiger Woods-Steve Williams split:
"[Caddies] are traffic cops, psychiatrists and meteorologists. They are chauffeurs, butlers, and bodyguards, buddies, sidekicks and frequent dinner companions. When things get really tough, they are guard dogs, attack dogs."
The "dogs" are often not treated with the same level of respect by tournament hosts and venues as players.
At The Barclays, according to APTC President James Edmondson, the following occurred during a rain delay:
"A security guy came in, started berating us, asking to see everyone's ID, and then began kicking out our families into the rain. We all thought, 'Would they ever do this to the players in their area?' That's when we decided to have a meeting."
The result of that meeting, attended by half of the caddies looping in New York that week: a unanimous vote to become an association. The group hired the law firm of Barlow, Garsek & Simon to represent them and established a board of caddies, which includes Tiger Woods' caddie, Joe LaCava.
As Christian Dennie, an attorney for the caddies said:
The caddies play an instrumental role in the success of tour players and the success of professional golf. In an effort to further their profession, caddies have united to provide more information about their role in professional golf and obtain group benefits that will allow them to have retirement accounts and health care like many Americans who watch golf each week.
Standard pay for a caddie on the PGA Tour is a $1,000 a week plus 5-to-10 percent of a player's winnings. Sure, if you're Joe LaCava, Steve Williams, Fluff Cowan, or Bones Mackay, maybe you're making close to seven figures. But what if you're carrying a bag for Ken Duke, 50th on the PGA Tour money list at $1,722,583, making 5-to-10 percent of that number plus $1000 a week? Or Casey Wittenberg, 150th on the money list at $425,395?
Carrying a bag on tour beats the proverbial burger flipping from a financial point of view to be sure, but what of benefits, health insurance, retirement accounts, etc? As caddies aren't formally employed by the Tour, they aren't recipients of standard benefits afforded to employees of a large, immensely profitable organization.
It's appropriate to remember, too, that prior to Walter Hagen's 1920 Open Championship dressing-in-his-limousine stunt (and the succeeding U.S. Open), touring pros weren't even permitted to change in the host club's locker room. Beyond this specific formal barrier, the men placing pegs in the ground were generally treated more like traveling circus performers than revered athletes.
The PGA Tour itself—which, among many other things, contributed to reversing the above—was only formed in the late 1960 as money from television contracts began to pour into the pockets of the PGA of America. It was at this point that those entertaining Americans on the fairways collectively stood up and said they felt they ought to rewarded appropriately for their efforts.
Professional caddies are faced with a similar situation today: needing to formally legitimize a profession that has evolved and become quite legitimate in significant ways but hasn't in equally significant others.
Long gone are the days of a pro picking the local caddie from the pit to schlep his bag for the week. It's time for professional tour caddies to be appropriately organized and represented, and the APTC is the right move.
Your Reaction?
LIKE

5

LEGIT

1

WOW

0

LOL

0

IDHT

0

FLOP

0

OB

0

SHANK

0
On Spec: Talking Kirkland wedge, LPGA Tour, and teased irons from TaylorMade & Mizuno
In this episode of On Spec, host Ryan talks about the recently discovered Kirkland Signature wedges on the USGA Conforming list, as well as what recently spotted TaylorMade and Mizuno irons may have in store
Also with the LPGA Tour back in action, Ryan also discussed why it is a good idea to check out how LPGA players gap their bags compared to players on the PGA Tour.
Check out the full podcast on SoundCloud below, or click here to listen on iTunes or here to listen on Spotify.
Want more GolfWRX Radio? Check out our other shows (and the full archives for this show) below. 
Your Reaction?
LIKE

1

LEGIT

0

WOW

0

LOL

0

IDHT

0

FLOP

0

OB

0

SHANK

1
How Tiger Woods lost the 2009 PGA Championship
11 years ago, the PGA Championship produced one of the greatest upsets in sporting history.
The all-conquering Tiger Woods arrived at the 2009 PGA Championship as the prohibitive favorite, having won three of his last four events. Woods then backed up that favoritism over the opening two days, picking apart Hazeltine National with extreme precision to build a four-stroke advantage by the halfway point.
It felt like such a formality that here in Ireland, our biggest bookmaker, PaddyPower declared Tiger as the winner and decided to pay out all outright bets on the World Number One after just 36 holes.
It proved to be a big mistake.
Next week will be the 11th anniversary of the monumental upset, and here I'll take a look at the factors behind Woods' unthinkable loss that week to Y.E. Yang.
Tiger's Ultra-Conservative Saturday
On a scoring Saturday, Woods was too content to play it safe. Why not? After all, the ultimate closer had won so many majors by forging a lead, aiming for the middle of the green, two-putting for par and watching his opponents slowly falter one by one.
Only this time was different, and even Tiger with a two-shot lead going into Sunday's final round as much as admitted he was too conservative during round three, saying after his round:
"They gave us a lot of room on a lot of these pins, six and seven even from the side, so you can be fairly aggressive. I just felt that with my lead, I erred on the side of caution most of the time.

"If I did have a good look at it, a good number at it, I took aim right at it. Otherwise I was just dumping the ball on the green and 2-putting."
The incessant safety first, lag putting strategy of Saturday even transformed into a tentativeness at the beginning of Sunday's final round.
On the par-five seventh hole, with Yang in trouble, Woods had 245 yards to the pin for his second with a huge opportunity to make a statement eagle or textbook birdie. He inexplicably layed up, hit a poor wedge and once again lagged for par.
Horrific Sunday Putting
To say Tiger's trusty Scotty Cameron betrayed him during Sunday's final round would be underselling it. Putt after putt just refused to drop when he needed it most.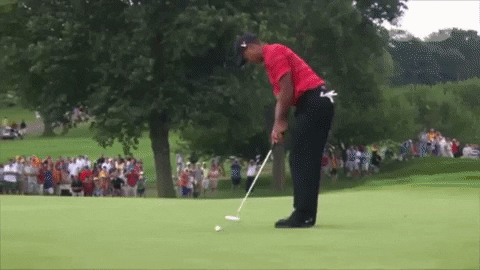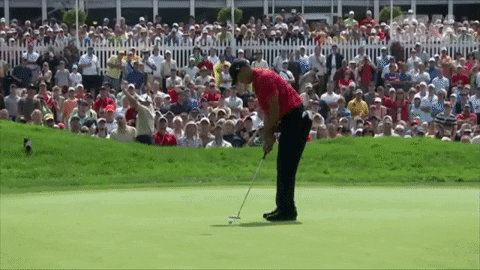 In the end, Woods' seven-foot birdie effort on the 14th hole is the only putt of any note he managed to make on the day.
Tiger played Sunday's final round in 75 strokes. Thirty-three of them were putts.
Yang Stood Up To Tiger
Critics of Woods have long claimed that in his prime, Tiger would crowd his opponents as an intimidation tactic, or rush off the green to the next tee leaving his competitors to putt out while the crowd dispersed.
Regardless, nothing was going to faze Yang that Sunday.
In fact, during the early stretch of the final round, Tiger's indecision and tentativeness led to the pairing being behind the pace of play. It forced on-course officials to remind the two that they needed to speed it up—and of course, they only stressed that Yang needed to do so.
How did the Korean respond? By pointing at Tiger and saying "Not me. Him."
The Pivotal Two-Shot Swing
Many look back on Yang's chip-in eagle to take the lead at the 14th hole on Sunday as the significant turning point of the Championship. However, Yang was always likely to make birdie on the short par-four hole, and the previous hole may well have been the tipping point for the upset.
On the par-three 13th hole, Yang found the bunker, while Woods hit a beauty to eight feet. The two-shot swing in Tiger's favor looked even more likely when Yang failed to get his bunker shot inside Woods' ball.
But when Yang buried his par effort, and Woods let yet another putt slip by, the two remained all square.
Woods' reaction following his putt was telling; his frustration poured out despite him still being in a share of the lead. It was a show of exasperation that may have given the Korean all the encouragement he needed to turn Tiger's 54 hole major lead record of 14-0 into 14-1.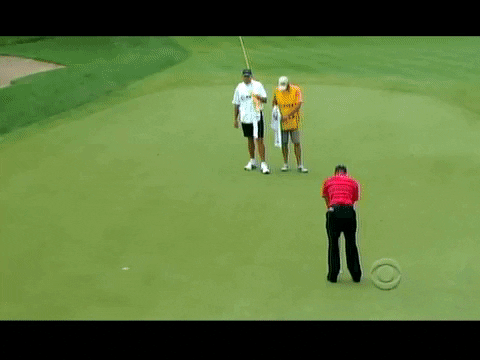 Asked following his round when he felt his control on the tournament beginning to loosen, Woods said:
"But as far as the tournament switching, 13, I stuffed it in there. He made a mistake, hit it in the left bunker. He blasted out. I missed my putt. He made his. And then he chipped in on the next hole.

"So that two-hole stretch turned — if I make my putt, he doesn't chip in, you know, he doesn't make his putt on 13."
The 2009 PGA Championship preceded a ten-year barren spell for Tiger at the majors before he claimed his fifth green jacket at the 2019 Masters. He is still yet to appear in the final twosome on a Sunday at a major since the 2009 PGA.
As for Y.E Yang, the 48-year-old now spends most of his time competing in Japan and his native Korea. He has played in all 10 PGA Championships since his remarkable victory. He has missed the cut seven times.
Your Reaction?
LIKE

24

LEGIT

9

WOW

3

LOL

3

IDHT

1

FLOP

1

OB

0

SHANK

13
The Gear Dive: Brandel Chamblee is back!
In this episode of TGD brought to you by Titleist, Johnny goes in on the distance debate with a friend of the podcast, Brandel Chamblee. Also picks for the WGC, filling a hole in the bag and why the LPGA is the best place to learn how to play.
Check out the full podcast on SoundCloud below, or click here to listen on iTunes or here to listen on Spotify.
Want more GolfWRX Radio? Check out our other shows (and the full archives for this show) below. 
Your Reaction?
LIKE

4

LEGIT

0

WOW

0

LOL

0

IDHT

0

FLOP

0

OB

0

SHANK

7